Duke Energy Gives Democratic National Convention $10 Million Line of Credit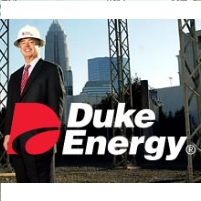 Jim Rogers, CEO of Duke Energy
In accepting a substantial credit line from Duke Energy for its 2012 convention, the Democratic Party finds itself accused of two double standards.
First, party officials promised to not accept any donations, from corporations or individuals, in excess of $100,000 for its presidential convention in Charlotte, North Carolina. Critics say the $10 million line of credit, negotiated by Duke and provided by Fifth Third Bank, violates the intent to throw "a people's convention" next year.
Second, Duke is the nation's third largest coal-burning utility and a major contributor to global-warming pollution, which doesn't exactly jive with the Obama administration's green-energy commitment.
Duke CEO Jim Rogers is leading fundraising efforts for the Democratic convention, an event that's expected to cost $36 million. In 2008, the party accepted donations of $1 million or more from corporations to host the convention in Denver. Although they won't be able to give such sums directly for 2012, companies will still be able to make in-kind contributions, such as equipment, office space and technology.
-Noel Brinkerhoff