Defense Dept. Pays more per Unit for Prescription Drugs than Medicare and Medicaid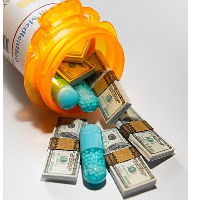 The biggest spender on prescription drugs in Washington, DC, is not either of the leading programs that provide healthcare coverage, but the one that wages warfare.
It turns out the Department of Defense spends more money per unit for medications than Medicare or Medicaid, according to the Government Accountability Office (GAO) in a new report (pdf).
According to the GAO, the Pentagon spends an average of 99 cents per unit for a sample of 78 drugs (33 brand-name and 45 generic), while the same drugs cost 82 cents a unit when purchased by Medicare Part D and 62 cents by Medicaid.
In terms of actual dollars, defense officials approved nearly $7.5 billion for prescription drugs in fiscal year 2011, the GAO says. That spending provided medicine for nearly 10 million Americans that year.
The report marks the second time in two years that the GAO has pointed out the Pentagon's habit of overpaying for medications.
In 2013, another audit noted the agency was paying more than the Department of Veterans Affairs, whose primary job is to take care of ex-soldiers' needs, particularly health services.
The GAO in its most recent assessment gave a variety of reasons why the Defense Department keeps paying more than Medicare and Medicaid for prescriptions.
The report indicated that the most important factor was "post-purchase price adjustments." In the case of the Department of Defense, this meant manufacturer refunds; for Medicaid, federally mandated rebates and for Medicare rebates and other "price concessions."
Other significant factors were the gross unit prices paid to retail pharmacies and the size of contributions paid by beneficiaries.
-David Wallechinsky, Noel Brinkerhoff
To Learn More:
Comparison of DOD, Medicaid, and Medicare Part D Retail Reimbursement Prices (Government Accountability Office) (pdf)
Pentagon Spends More Per Patient Than Medicare and Medicaid (by Chloe Johnson, Washington Times)
Big Drug Companies Must Refund Defense Dept. for Products Bought at Retail Pharmacies (by Noel Brinkerhoff, AllGov)