Defense Dept. Leads List of U.S. Agencies that Ignore Thousands of GAO Cost-Cutting Recommendations
Thursday, December 17, 2015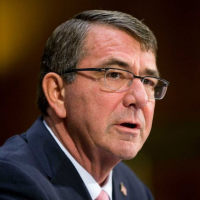 Defense Secretary Ashton Carter (photo: Pablo Martinez Monsivais, AP)
The Government Accountability Office (GAO) makes recommendations to federal agencies on ways they can save taxpayer dollars. However, some of the larger agencies have yet to embrace 4,800 recommendations made by auditors, and the Department of Defense, which has failed to implement 1,004 such suggestions, has by far ignored the GAO the most.
One of the biggest defense programs the GAO has examined is the F-35 Joint Strike Fighter. The Pentagon, according to the GAO, did not adequately assess the affordability of the plane, which has had severe teething problems as it has moved into service.
The Department of the Treasury has the second largest pile of GAO suggestions awaiting action: 409, followed by the departments of Health and Human Services (398), Homeland Security (394), and Transportation (367).
The GAO has been credited with helping the government save billions of dollars. Since 2003, GAO's audits have helped generate more than $500 billion and bring about 17,000 program efficiency reforms, according to Comptroller General Gene Dodaro, who said GAO tries to follow up on its suggestions. "This year GAO sent letters to the heads of key executive branch agencies identifying unimplemented recommendations that warrant priority attention," Dodaro said, according to Government Executive.
Suggestions about information technology expenditures have also been ignored. A report earlier this year stated: "Over the last six years, GAO made about 800 recommendations to OMB [Office of Management and Budget] and agencies to improve acquisition and operations of IT," according to Sputnik. "As of October 2015, about 32 percent of these had been implemented."
-Noel Brinkerhoff, Steve Straehley
To Learn More:
Pentagon, Treasury Top List of Agencies Struggling with GAO Recommendations (by Charles S. Clark, Government Executive)
US Govt Ignoring Over 500 Recommendations to End Wasteful IT Practices (Sputnik)
US Government Agencies Ignoring 840 Warnings on Poor Cybersecurity (Sputnik)
Performance and Accountability Report FY 2015 (U.S. Government Accountability Office) (pdf)
FDA So Slow to Respond to GAO Recommendations about Secret Food Additives that It's like not Responding at all (by Noel Brinkerhoff and Steve Straehley, AllGov)
Why is Congress Cutting the Budget of Agency that Saves Billions of Dollars? (by Noel Brinkerhoff, AllGov)