Dark Money Political Groups Hit $100 Million Mark in Election Spending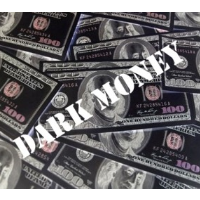 (graphic: Steve Straehley, AllGov)
Dark money groups, which don't disclose their donors, have spent more than $100 million on the 2014 general election by early October and if the numbers remain true to form, they'll spend that much again before Election Day.
That amount is more than a third higher than what was spent on congressional races at this point in 2012, according to the Center for Responsive Politics. The number then was $73 million and the corresponding amount from 2010 was just under $65 million.
In previous campaigns, 54% of the funds spent by dark money groups was spent in the final few weeks of the campaign, so the total spent will almost certainly top $200 million this year.
The money is funneled to so-called "social welfare" groups and trade associations. In a new wrinkle, some of these groups are devoted to single-candidate causes. One of the most prominent spenders in that category has been the Kentucky Opportunity Coalition, which has been funding ads promoting the campaign of Senate Minority Leader Mitch McConnell (R-Kentucky) and targeting his Democratic rival, Alison Lundergan Grimes.
Other money is spent by the Koch brothers'-funded Americans for Prosperity and Karl Rove's Crossroads GPS, an offshoot of American Crossroads, on so-called "issue ads" that don't promote a specific candidate, but leave no doubt which one they're backing.
The vast majority of dark money is being spent by groups backing conservative candidates, but there are some Democratic-leaning groups as well. As of the first week in October, they had spent $19.4 million.
-Steve Straehley
To Learn More:
Dark Money Hits $100 Million With Help from Single-Candidate Groups (by Robert Maguire, Center for Responsive Politics)
Dark Money Groups Set Record in 2014 Midterms (by Annie Linskey, Bloomberg)
Secret Donors have Spent more than $60 Million on Current Election Campaign (by Noel Brinkerhoff, AllGov)
Secret Donors Dominating This Year's Election Campaign Ads (by Noel Brinkerhoff, AllGov)
Secret Campaign Donors Overwhelmingly Attack Democrats and Support Republicans (by Matt Bewig, AllGov)