Secret Donors have Spent more than $60 Million on Current Election Campaign
Monday, September 22, 2014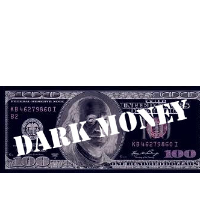 (graphic: Steve Straehley, AllGov)
Spending from the shadows of the American electoral system has continued to creep in size, with tens of millions in so-called dark money pouring into congressional campaigns this election season.
Nonprofit groups that aren't supposed to have politics as their primary purpose have reportedly put $63 million into ads and other efforts to influence the outcome of the 2014 midterm races, according to the Center for Responsive Politics (CRP), which tracks electoral spending.
Mother Jones' Andy Kroll pointed out that this amount nearly matches the $69 million in dark money that was spent during the entire 2008 presidential campaign.
CRP said just last month that secret donors had invested about $50 million in races for Congress and other offices. Robert Maguire wrote that the amounts reported to federal regulators probably represent only a fraction of what ultimately will be spent. "At this point in the last midterms, only $6.6 million had been reported by groups that don't disclose their donors; by Election Day, that total was more than $130 million," he wrote.
That's why the Center for Responsive Politics estimates that "dark money spending in the 2014 midterms will easily match or surpass the spending records set in the last presidential elections. If the rate of spending from previous cycles continues, the totals could reach upwards of $730 million or—if the rate seen in the last midterm holds—edge close to $1 billion," Maguire wrote.
-Noel Brinkerhoff
To Learn More:
Dark Money Hits $50 Million, Most Still to Come (by Robert Maguire, OpenSecrets.org)
5 Signs the Dark-Money Apocalypse Is Upon Us (by Andy Kroll, Mother Jones)
Secret Donors Dominating This Year's Election Campaign Ads (by Noel Brinkerhoff, AllGov)