City and State Pension Funds Pay Billions in Undisclosed Fees to Private Equity Companies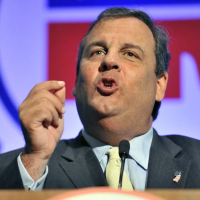 Chris Christie, campaigning (photo: Josh Reynolds, AP
A good portion of the money that is supposed to be going to government retirees is being skimmed off by Wall Street as fees, much of them undisclosed, charged by private equity companies.
CEM Benchmarking, which compares costs for various public and private equity funds, says in a report (pdf) that "Less than one‐half of the very substantial [private equity] costs incurred by U.S. pension funds are currently being disclosed." The difference can be as much as $60 million on a portfolio valued at $3 billion, CEM reported.
Private equity funds say they're worth the fees they charge because they bring in better returns on investments. However, it's difficult to verify this claim because long-term returns are mostly self-reported by the equity firms.
Of this country's $3 trillion in public pension fund assets, roughly 9% ($270 billion) gets invested in private equity firms. The industry's 2% management fee therefore pays the equity industry about $5.4 billion a year. But if CEM's calculations apply uniformly, that could mean that in fact more than $10 billion a year, half of that in hidden fees, are being taken from retirees at the same time that governments are trying to cut benefits, according to David Sirota and Matthew Cunningham-Cook in International Business Times.
One recent example of this is in New Jersey, where big fees for handling government pensions have gone to fund managers who supported Republican Governor Chris Christie's election campaigns. In the five years since Christie took office, the International Business Times reported, fees have quadrupled at the same time Christie has said the funds don't have enough money to pay all the benefits to which retirees are entitled. New Jersey pension trustees have announced an investigation of the funds.
"With billions of public worker and taxpayer dollars put at risk in the highest-cost, most opaque investment schemes ever devised by Wall Street for a decade now, investigations that hold Wall Street profiteers accountable are long, long overdue," former Securities and Exchange Commission attorney Ted Siedle wrote in Forbes.
Other governments aren't waiting around. Montgomery County, Pennsylvania, in the Philadelphia suburbs, has switched most of its retirement funds from private equity to low-fee stock index funds. California's massive retirement system, CalPERS, announced last year that it would be divesting itself of hedge funds because of their high costs.
-Steve Straehley
To Learn More:
Cities and States Paying Massive Secret Fees to Wall Street: Report (by David Sirota and Matthew Cunningham-Cook, International Business Times)
Public Pension Fund Analysis (Private Equity Growth Capital Council) (pdf)
The Time Has Come for Standardized Total Cost for Private Equity (CEM Benchmarking) (pdf)
State Government Revenues Tops Expenditures Thanks to Pension Fund Investments (by Noel Brinkerhoff, AllGov)
California Pensions to Dump $4-Billion Hedge Fund Investments (by Noel Brinkerhoff, Steve Straehley and Ken Broder, AllGov California)
"Vulture" Capitalists Strike Vulnerable Cities and Counties (by Matt Bewig, AllGov)