Beware of Car Title Loans; Interest Rates Range from 80% to 500%
Monday, December 29, 2014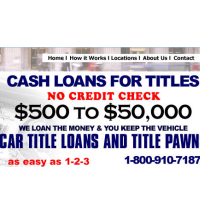 (graphic: Carbucks)
Lenders have found a new way to prey on Americans desperate for cash: car title loans.
Similar to the ethically squishy subprime home loan mess, financial institutions are offering loans to people who put up their cars as collateral at rates ranging from 80% to 500% per year.
Auto title loans, also known as motor-vehicle equity lines of credit or title pawns, are "at the center of the biggest boom in subprime lending since the mortgage crisis," according to The New York Times.
More than 1.1 million American households used car title loans last year.
Many of those who take out such loans end up with never-ending payments and eventually lose their vehicle. Caroline O'Connor of St. Louis was one these borrowers. She wound up on the hook for a loan with 171% interest and lost her car to repossession. She told the Times: "These companies put people in a hole that they can't get out of." About one in six title-loan borrowers lose their cars to repossession, according to the Center for Responsible Lending.
The loan terms vary, but even those that last only a month are often renewed by the lenders, resulting in borrowers getting trapped in a debt spiral. Lenders know that borrowers will do just about anything to keep their cars from being repossessed, so the loans are low risk—for the loan companies. "The threat of repossession turns the borrower into an annuity for the lenders," Diane Standaert, director of state policy at the Center for Responsible Lending, told the Times.
-Noel Brinkerhoff, Steve Straehley
To Learn More:
Rise in Loans Linked to Cars Is Hurting Poor (by Jessica Silver-Greenberg and Michael Corkery, New York Times)
What's an Auto Title Loan? (by Christine DiGangi, Credit.com)
Fall behind on Car Loan Payments and Lender Might Disable Your Car (by Steve Straehley, AllGov)
Justice Dept. Zeroes in on Sub-Prime Auto Loans (by Noel Brinkerhoff and Steve Straehley, AllGov)