Fall behind on Car Loan Payments and Lender Might Disable Your Car
Monday, November 10, 2014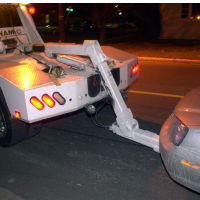 (AP Photo)
New technology has caused some Americans with subprime auto loans to be stranded and at the mercy of their lender if they're even a little late making a payment.
Lenders have been installing GPS-based ignition kill switches on cars that allow a vehicle to be disabled for late payments or even going outside a pre-approved area. The controls not only leave drivers stranded, but present serious privacy questions.
"No middle-class person would ever be hounded for being a day late," Robert Swearingen, a lawyer with Legal Services of Eastern Missouri in St. Louis told The New York Times. "But for poor people, there is a debt collector right there in the car with them."
The devices are now in about 2 million vehicles and can be operated by a lender from a smartphone. "I have disabled a car while I was shopping at Walmart," said Lionel M. Vead Jr., head of collections at First Castle Federal Credit Union in Covington, Louisiana.
Lenders claim they give borrowers plenty of warning and some even provide a remote device that will get the car running again for 24 hours, giving them time to make their payments. But other lenders trip the system if the borrower is as much as a day late with a payment.
One woman's car was disabled and towed when she left a pre-approved four-county area in Texas—to seek safety at a shelter for battered women. She was terrified that if the loan company could find her, her husband could as well.
Some consumer rights attorneys argue that disabling a car is the same as repossessing it, which can't happen until the borrower is in default, or 30 days late on a payment. Wisconsin bans the devices altogether and California allows them only at "buy here-pay here" dealerships.
Individual lenders aren't necessarily to blame for the use of the kill switches. Wall Street, in its quest for more profit, has a hand in this as well. Securities based on subprime auto loans are now in vogue and they're worth more if the traders have the security blanket of kill switches on the cars that are part of their investment, according to Cliff Weathers of AlterNet.
What's next? Landlords are beginning to install electronic locks on their rental units, allowing them to keep a tenant who hasn't paid his rent out of his apartment.
-Steve Straehley
To Learn More:
Miss a Payment? Good Luck Moving That Car (by Michael Corkery and Jessica Silver-Greenberg , New York Times)
Lenders Can Now Disable Your Car When You're Driving on the Freeway (by Cliff Weathers, AlterNet)
Your Car Won't Start. Did You Make The Loan Payment? (by Robert Szypko, NPR)
Justice Dept. Zeroes in on Sub-Prime Auto Loans (by Noel Brinkerhoff and Steve Straehley, AllGov)