Albuquerque Police Department Rakes in Huge Profits From Forfeiture Practice
Wednesday, September 07, 2016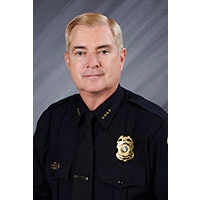 Albuquerque Police Chief Gorden Eden
By Victoria Prieskop, Courthouse News Service
ALBUQUERQUE, N.M. — Albuquerque hauls in more than $1 million a year by seizing cars, sometimes from innocent people, in defiance of state law and public outrage, claims a mother who wants the city's program declared unconstitutional.
The civil forfeiture program has been just one aspect of increasingly unpopular police actions in Albuquerque. Public outrage at "policing for profit" forced the Legislature to pass a Forfeiture Reform Law, House Bill 560, which took effect in July 2015. It bans most forms of civil forfeiture in New Mexico.
But Albuquerque continued doing it and plans to expand, even after state Senators Lisa Torraco and Daniel Ivey-Soto sued the city in November 2015, after the city "approved $2.5 million in new bonds to purchase a larger parking lot to hold all the cars the city expects to seize."
For Arlene Harjo, the last straw was when Albuquerque seized her car after her son lied to her, borrowed it, and drank alcohol.
"Arlene does not dispute that Tino did something wrong, but Tino — not Arlene — should be the one held responsible," she says in her Aug. 31 complaint in Bernalillo County Court.
Albuquerque has seized cars and trucks from more than 1% of its residents: 8,300 of them from 2010 to 2014, Harjo says in the complaint — one car for every 66 residents. The city raked in more $8.7 million from its civil forfeiture program in that time.
"Albuquerque's program is a perfect illustration of the perverse profit incentive created by civil forfeiture," Harjo's attorney, Robert Everett Johnson, said. "The same city officials who are seeking to forfeit Arlene's car will benefit from the forfeiture, as the proceeds will go to fund their budget and even to pay their salaries. That creates a powerful incentive to take property from innocent people like Arlene, and it also creates a powerful incentive to ignore the Legislature's reforms abolishing civil forfeiture."
Harjo says she has been trying to get her car back for months, during which time the city has demanded that she "prove her own innocence ... treated her like a criminal," and pay for an administrative hearing, at which she was "confronted by a supposedly neutral hearing officer who acted as an advocate for the city — advancing theories not based on evidence in the record as to why Arlene should be punished for Tino's actions."
She says the forfeiture program is "driven by a pernicious — and unconstitutional — profit incentive."
The city even writes into its budget ahead of time the money it expects to make from selling seized cars, Harjo says. "The city's 2016 budget, for instance, anticipates that $512,000 will be transferred from the fund that received vehicle forfeiture revenues to pay the salaries of 'two paralegals, two attorneys, two DWI seizure assistants and one DWI seizure coordinator.'" The budget item shows that Albuquerque has "a direct financial incentive for city officials to seize property even in marginal cases."
At least three city officials have been caught driving seized cars for personal use, including a Cadillac Escalade, according to the complaint.
Harjo's nightmare began when she loaned her car to her son, who said he was going to the gym. Instead, he drove it to see his girlfriend, and was charged with DWI on his way home, his mother says.
She seeks declaratory judgment that the state's Forfeiture Reform law overrides the city's civil forfeiture program, which is unconstitutional, and a permanent injunction against it. She also wants her car back, court costs and $1 in nominal damages for violation of her constitutional rights.
Attorney Johnson is with the Institute for Justice, in Arlington, Va.; Harjo's local counsel is Asher Kashanian in Albuquerque.
The Department of Justice scorched Albuquerque in a November 2014 report that found its police killed citizens at a far greater rate than police in larger and more violent cities, including one case when officers set a man on fire with Tasers after he'd doused himself in gasoline.
To Learn More:
The Most Violent Police Force in U.S.: Albuquerque, New Mexico (by Noel Brinkerhoff, AllGov)
For the First Time, Law Enforcement Takes more Property from Americans than Burglars Do (by Noel Brinkerhoff and Steve Straehley, AllGov)
Across U.S., Police Asset Seizures Fuel "Slush Fund" for Buying Weapons, Luxury Cars, Travel…and Even a Clown (by Noel Brinkerhoff and Steve Straehley, AllGov)