83% of Mortgages Sold by Government to Banks and Hedge Funds End in Foreclosure
Tuesday, September 29, 2015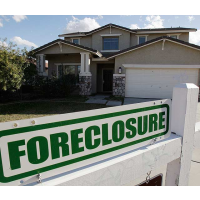 (AP photo)
A government program launched following last decade's mortgage crisis to help struggling homeowners has mostly helped banks and hedge funds, and not Americans in danger of losing their houses.
Five years ago, the Department of Housing and Urban Development (HUD) launched a mortgage sales program called the Distressed Asset Stabilization Program (DASP) so it could unload teetering mortgages to the private sector.
DASP was supposed to not only help HUD improve its finances, but also assist homeowners facing the risk of foreclosure work out new terms with the banks or hedge funds buying the mortgages. But things haven't worked out that way for the vast majority of homebuyers.
DASP has resulted in more than 98,000 mortgages—representing more than $16.7 billion in total debt—being sold to investors "at times as little as 41 percent of the mortgages' collective value," the Center for Public Integrity reported. The struggling Federal Housing Administration, which insures mortgages, became solvent as a result of the sales. However, only 16.9% of the mortgages sold between 2010 and 2014 avoided foreclosure.
HUD claims that a decline in foreclosures shows that the housing market is stabilizing. Seeing may be believing, but what is seen may not be accurate. It may be that DASP is being used by HUD to invent "ghost inventories" where foreclosures haven't appeared on the books yet, but may still occur, according to Daren Blomquist, vice president of RealtyTrac. "This process of selling loans, aside from whether it's working, it has the added bonus of making the foreclosure numbers look better in the short term," he told the Center for Public Integrity.
The Center's Jared Bennett reported that "rather than offering better terms to borrowers, the new owners often flip the homes for a profit," which "can leave struggling homeowners…in the dark, and in some cases on the streets." Housing advocates have criticized HUD for "primarily facilitating a massive wealth transfer, with thousands of homes going from distressed borrowers to wealthy investors simply looking to profit," wrote Bennett.
-Noel Brinkerhoff, Danny Biederman
To Learn More:
Hedge Funds Get Cheap Homes, Homeowners Get the Boot (by Jared Bennett, Center for Public Integrity)
Government Housing Program Backfires, Helps Wall Street Instead (by Steve Straehley, AllGov)