Government Housing Program Backfires, Helps Wall Street Instead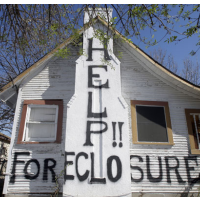 (photo: Eric Gay, AP)
The Distressed Asset Stabilization Program (DASP) is a federal program that was meant to take nonperforming mortgages off the banks' books and move them to an entity that would make the terms of their loans easier for homeowners to live with. Instead, the program, run by the Federal Housing Administration (FHA), has turned out to be a money-maker for big investors.
A report (pdf) by The Right to the City Alliance and The Center for Popular Democracy shows that the FHA has auctioned 98,100 mortgages from 2012 to the middle of this year. For-profit entities, primarily private equity firms, have bought 97% of them. Once the homes are foreclosed on, the equity firms then rent out the houses and even sell securities based on future rent receipts.
"By selling homes to private equity giants and vulture capitalists, DASP is fueling the rise of the Wall Street landlord," Kevin Whelan, national campaign director of the National Home Defenders League, told Truthout.
The FHA is more focused on moving the loans to the highest bidder rather than one who might help stabilize a neighborhood, according to report author Connie M. Razza. "The result is that other qualified purchasers — including nonprofits with an explicit goal and clear program to modify mortgages with principal reduction and to create affordable rental housing — are being crowded out by Wall Street speculators, most often private equity firms and hedge funds," she wrote.
The program requires that financial institutions selling the mortgages must have exhausted all attempts at mitigating the loss on their own, such as mortgage modification, before the loans are turned over. However, financial institutions have found it quicker and easier to dump the mortgages and collect insurance payouts for the loan balance, according to the report. This leaves the homeowner with a new lienholder who often has no interest in modifying the mortgage terms.
It's the usual suspects who are taking advantage of the program. Bank of America, JP Morgan Chase and Wells Fargo sold 76% of the loans auctioned through DASP in 2013 and 2014. "Servicers stand to make out very well from this program," the Center for American Progress' Sarah Edelman said, according to Truthout.
The Department of Housing and Urban Development (HUD), under whose auspices DASP is run, has made a minor change that could help some homeowners. Instead of depending on the financial institutions to self-certify that they had exhausted loss-mitigation options, HUD would check all loans to ensure compliance.
The Razza report makes five recommendations for strengthening the program while stabilizing communities. They include crediting bidders that offer community stabilization plans, modifying outcome requirements to create affordable rental housing and preserve home ownership, sell more loans through Neighborhood Stabilization outcome pools, improve the pre-sale process and publicize performance data.
-Steve Straehley
To Learn More:
Vulture Capital Hits Home (by Connie M. Razza, Right to the City Alliance and Center for Popular Democracy) (pdf)
Housing Rights Group Says HUD Program Helps Wall Street, Hurts Homeowners (by Rebecca Burns, Truthout)