$15 Hourly Wage Seen as Too Low to Meet Nationwide Cost of Living
Thursday, October 15, 2015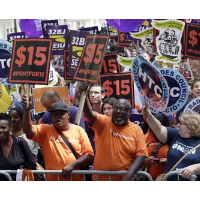 (AP photo)
While labor groups continue to fight for the adoption of a $15 an hour minimum wage, one liberal organization is calling for an even higher minimum.
A report (pdf) from Alliance for a Just Society says $15 an hour is not enough for people to make ends meet in at least 35 states and the District of Columbia.
A true livable wage would be an average of $16.87 an hour, the group says. In Arkansas, a wage of $14.26 would suffice. Washington D.C. workers would need to earn $21.86 an hour.
"Our emphasis...is to show just how modest a figure $15 really is," Allyson Fredericksen, the report's author, told Common Dreams. "It is not an extravagant wage and it is not the only solution."
The report also noted how many hours each week workers would have to put in at the current minimum wage to get by. In New York, it's 91 hours; in Virginia it's 103.
"The answer to low wages is not expecting people to work a ridiculous number of hours, or to make severe cutbacks in basic necessities," Fredericksen said. "Instead, the answer is to pay workers enough to ensure that full-time employment provides some measure of financial stability. Our research shows that's twice the current minimum wage in many states."
-Noel Brinkerhoff, Steve Straehley
To Learn More:
Pay Up! $15 in Not a Living Wage in Most of the Country (by Kathy Mulady, Alliance for a Just Society)
To Fix National Poverty Crisis, Study Shows Even $15 Wage Won't Do the Job (by Nadia Prupis, Common Dreams)
Pay Up! Long Hours and Low Pay Leave Workers at a Loss (by Allyson Fredericksen, Alliance for a Just Society) (pdf)
Fast-Food Workers Earn $20 an Hour plus Benefits…in Denmark. Why Not in U.S.? (by Noel Brinkerhoff, AllGov)