100 Biggest Campaign Donors Gave almost as much as 4,750,000 Normal Donors
Thursday, January 01, 2015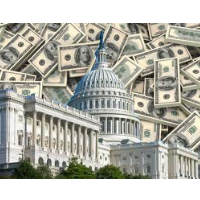 (graphic: Steve Straehley, AllGov)
Some insist there is nothing wrong with the state of campaign financing in the United States, where the wealthy have more opportunity than ever to spend enormous sums on elections. But it's hard to rationalize how it's OK when 100 Americans can nearly outspend 4.75 million others.
That's what happened in the 2014 elections, according to Politico, which says the 100 largest campaign donors contributed a combined $323 million compared to $356 million donated by 4.75 million people who gave $200 or less.
Politico's Kenneth Vogel wrote that the rich really spent far more than official records show because the $323 million doesn't reflect the $219 million spent by powerful nonprofit groups that are funded in large part by multi-millionaires and billionaires such as the Koch brothers, whose identities can be kept secret under federal law.
"The numbers," Vogel wrote, "paint the most comprehensive picture to date of an electoral landscape in which the financial balance has tilted dramatically to the ultra-rich. They have taken advantage of a spate of recent federal court rulings, regulatory decisions and feeble or bumbling oversight to spend ever-greater sums in politics — sometimes raising questions about whether their bounty is being well spent."
Vogel found that at the same time the rich are giving more than ever to candidates, ordinary Americans are giving less. Early totals have the number of people who contributed more than $200 in the 2014 cycle falling off from the 2010 totals.
Larry Lessig, a Harvard professor and cofounder of the partly crowd-funded Mayday super PAC, said the "insanity" of the system gives regular people little incentive to contribute to campaigns. "As you see that your democracy is controlled by a smaller and smaller number of funders, you have less and less interest to be engaged in it," Lessig told Politico.
It's hard to avoid the big money though. Even Mayday received $3 million from only seven donors.
-Noel Brinkerhoff
To Learn More:
Big Money Breaks Out (by Kenneth Vogel, Politico)
Donor Demographics (OpenSecrets.org)
Secret Donors have Spent more than $60 Million on Current Election Campaign (by Noel Brinkerhoff, AllGov)