What's the Hurry, Mr. President? Former Bush FEMA Director—Who Did a "Heckuva Job" with Katrina—Slams Obama for Quick Sandy Response
Thursday, November 01, 2012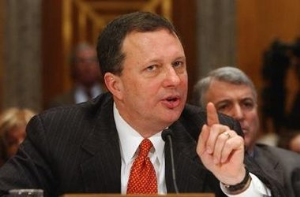 Michael Brown (Photo: AP)
President Barack Obama's quick response to super-storm Sandy was just a little too quick for Michael Brown. The former head of the Federal Emergency Management Agency (FEMA), Brown lost his job after his—and the Bush administration's—scandalously slow response to Hurricane Katrina, which devastated New Orleans in 2005.
Brown, now a local radio host in Colorado, told the Denver Westword that he thought Obama jumped the gun when he canceled his campaign trips and returned to Washington in preparation of Sandy hitting the East Coast.
"One thing he's gonna be asked is, why did he jump on [the hurricane] so quickly and go back to D.C. so quickly when in…Benghazi, he went to Las Vegas?" Brown said. "Why was this so quick?… At some point, somebody's going to ask that question…. This is like the inverse of Benghazi."
Benghazi is in reference to the attack on the U.S. diplomatic mission in Libya that killed Ambassador Christopher Stevens and three other Americans. Brown's remark echoed those of other Republicans who criticized Obama for attending a fundraiser after the assault occurred.
Brown was head of FEMA until 2005, when the administration's slow response to Katrina cost him his job despite doing "a heckuva job" according to President George W. Bush.
-Noel Brinkerhoff
To Learn More:
Bush's FEMA Director Criticized Obama's Response to Sandy for Being Too Speedy (by Connor Simpson, Atlantic Wire)
Bush's FEMA Director During Katrina Criticizes Obama For Responding To Sandy Too Quickly (by Hayes Brown, ThinkProgress)
Michael Brown, ex-FEMA head, has advice, criticism for Obama about Hurricane Sandy (by Sam Levin, Denver Westword)