Ambassador to Libya: Who Is Chris Stevens?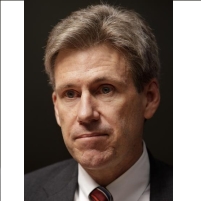 For his second tour in Libya, Stevens was sent to rebel headquarters in Benghazi, Libya, to serve as special representative to the Libyan Transitional National Council. He arrived on a Greek cargo ship on April 5, 2011 and stayed until November. His mission was to forge stronger links with the Interim Transitional National Council, and gain a better understanding of the various factions fighting the Gadhafi regime. His reports back to Washington were said to have encouraged the U.S. to support the rebel council, which the Obama administration did formally in July 2011.
Stevens speaks Arabic and French.
-Matt Bewig
Clinton Sends Envoy Stevens to Size Up Libyan Opposition (by Nicole Gaouette, Bloomberg)