U.S. Resumes Weapons Sales to Bahraini Dictatorship Despite Poor Human Rights Record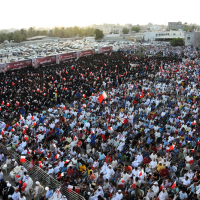 Bahraini anti-government protest, 2011 (photo: CJ Mohamed)
Bahrain's Arab Spring protests and that government's subsequent crackdown on protesters in 2011 is apparently far enough in the past that the Obama administration believes it can restore military funding and arms sales to the kingdom.
The State Department said in its 2014 Human Rights Report, which was released last week, that the Bahraini government restricts civil liberties and limits its citizens' ability to alter the makeup of its government, which is a constitutional monarchy. Pro-democracy opposition leaders continue to be thrown in prison and the country bars international election monitors.
The State Department says human rights protections are lacking in Bahrain, but "[W]e believe it is important to recognize that the government of Bahrain has made some meaningful progress on human rights reforms and reconciliation," State Department spokesman John Kirby said in a statement Monday. He made specific reference to the "implementation of many key recommendations from the Bahrain Independent Commission of Inquiry, and the recent release of a number of prisoners charged with crimes related to their political association and expression."
It's important to recognize that Bahrain is one of the United States' biggest military allies in the region. The U.S. Fifth Fleet is based there, its headquarters serving as a key command post for Navy and Marine Corps operations throughout the Middle East. The base oversees U.S. ships and houses American surveillance and fighter aircraft. U.S. operations in the region receive support from the Bahraini military, whose air force has flown missions against ISIS targets in Syria.
Among the U.S. military hardware released in the past week to Bahrain are Humvees and antitank missiles, reported Felicia Schwartz of The Wall Street Journal.
Military funding before the 2011 crackdown amounted to about $25 million for the fiscal year, fell to about $10 million in 2012 and was about $7.5 million for the current fiscal year. Now those numbers are likely to climb as the U.S. allows more military sales to Bahrain. Sales to the country's interior ministry, which took part in the attacks on protesters, will still be restricted.
"Allowing Bahrain to continue to exclude its Shi'a citizens and Sunni activists will only increase the risk of civil unrest, leaving them vulnerable to extremists in the region," Rep. Jim McGovern (D-Massachusetts) said Monday. "The renewal of U.S. military aid sadly demonstrates, once again, how so-called national security interests continue to trump human rights."
-Steve Straehley
To Learn More:
U.S. Restores Bahrain Military Aid Despite Human Rights (by Marcus Weisgerber, Defense One)
U.S. Resuming Arms Sales to Bahrain's Military (by Felicia Schwartz, Wall Street Journal)
Will John Legend Speak out against Bahrain's Brutal Dictatorship when he Performs There? (by Steve Straehley, AllGov)
Lockheed Comes to the Aid of Bahrain Dictatorship (by Noel Brinkerhoff, AllGov)
Why is Obama Selling Weapons to the King of Bahrain While He's Attacking Pro-Democracy Protestors? (by Noel Brinkerhoff, AllGov)