Will John Legend Speak out against Bahrain's Brutal Dictatorship when he Performs There?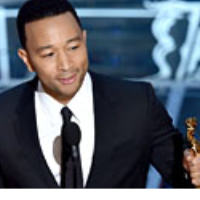 John Legend
John Legend made a moving speech at the Oscars last week as he accepted an award with Common for Best Original Song. "We say that 'Selma' is now because the struggle for justice is now," he said, adding that there are "more black men under correctional control today than were in slavery." But he appears more than willing to make money by performing for a government that commits human rights abuses on a large scale.
Legend is scheduled to perform Monday in a festival put on by the repressive government of Bahrain. According to the U.S. State Department's information on that country, "The most serious human rights problems included citizens' inability to change their government peacefully; arrest and detention of protesters on vague charges, in some cases leading to their torture in detention; and lack of due process in trials of political and human rights activists, medical personnel, teachers, and students, with some trials resulting in harsh sentences."
Human Rights Watch has documented many abuses by the Bahraini government, including imprisonment of opposition figures on "terrorism" charges and police use of excessive force. Other issues include lack of freedom of expression; failure to address domestic violence against women; and abuses of migrant laborers from other countries.
Legend is apparently aware of these abuses, but says he'll still perform for the government that commits them. He told The Independent: "Some have recently suggested that, due to documented human rights abuses by the government of Bahrain, I should cancel my upcoming concert there. After consulting with human rights experts, I decided to keep my commitment to perform for the people of Bahrain, many of whom I am proud to call my fans, during their annual festival."
So Legend will have another opportunity to make a moving statement on human rights, just as he did at the Academy Awards. Whether he does that, or decides to take the money and run, is up to him.
-Steve Straehley
To Learn More:
John Legend Took a Strong, Moral Stand at the Oscars. Now He's Performing in Bahrain. (by Adam Taylor, Washington Post)
An Open Letter to John Legend on Bahrain (by Marc Lynch, Abu Aardvark)
World Report 2015—Bahrain (Human Rights Watch)
Country Reports on Human Rights Practices for 2013--Bahrain (Department of State)
Hilary Swank and Jean-Claude Van Damme Celebrate Birthday of Chechen Warlord (by Noel Brinkerhoff, AllGov)