U.S. Fish and Wildlife Sued for Aiding International Pelt and Animal Parts Market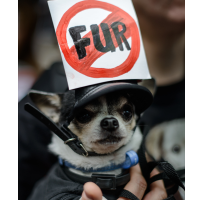 (photo: Philippe Lopez, AFP/Getty Images)
By Philip A. Janquart, Courthouse News Service
MISSOULA, Mont. (CN) — The U.S. Fish and Wildlife Service violates its own purpose by facilitating export of pelts from bobcats, gray wolves, brown bears, river otters and Canada lynx, the WildEarth Guardians claims in court.
The nonprofit environmental group claims a federal export program for pelts and animal parts feeds the international market for pelts from protected species, in violation of the Convention on International Trade in Endangered Species and federal law.
It sued Fish and Wildlife and the Secretary of the Interior on Tuesday in Federal Court.
"The international market for pelts, parts, trophies, garments and other components of these animals creates or maintains incentive for individuals to trap, catch, kill or otherwise obtain these animals," the lawsuit states.
"The Service recognizes that while habitat destruction is the major reason why species are in decline (and sometimes threatened with extinction), the international trade in animal pelts and parts authorized by the CITES export program for Appendix II furbearers is also a significant contributing factor."
WildEarth says that body grips, neck snares and leghold traps have trapped thousands of other species not intended for capture, killing or injuring them.
The CITES treaty, negotiated in 1973 by delegates from 80 counties, was ratified by Congress that year and became effective in 1975. It is the primary international treaty regulating international trade of animal and plant species and is implemented in the United States through the Endangered Species Act.
The Fish and Wildlife Service's Division of Management Authority administers the export program and issues permits and export tags to individual states, which in turn issue them to "trappers, hunters and other individuals seeking to trap, kill or otherwise collect the furbearer species for export."
The program originally included three species, but Fish and Wildlife revised it in 2014 to include the gray wolf and brown bear, and in 2015 approved Montana's request to export gray wolf pelts and parts.
"Montana stated that this approval was a 'big change' in terms of creating more opportunity for trappers to sell wolf pelts internationally," according to the complaint. "The Service approved of the export of up to 200 gray wolf hides/skins annually from Montana."
Eight wolves were exported in 2014 as hunting trophies and another 26 gray wolf "garments were exported from the United States for circus or traveling exhibition purposes," according to the complaint.
Fish and Wildlife requires states to provide information on animal populations, harvest control measures, total allowable harvest, tagging or marking requirements, habitat status and management plans before being approved for permits.
But WildEarth says that Fish and Wildlife "has determined that its CITES export program for ... furbearers is categorically excluded from NEPA [National Environmental Policy Act] review."
Given the high international demand for the animals, the group says, a proper NEPA review must be prepared to study the effects of the program on their survival.
"The Service has never prepared a NEPA analysis (EIS or EA) [or Environmental Impact Statement or Environmental Assessment] for any aspect of its CITES export program for Appendix II furbearers," the complaint states.
Matthew Bishop, an attorney with the Western Environmental Law Center in Helena, said the export program is large and expanding, and that analysis must be prepared to get an understanding of the short- and long-term effects on the animals.
"It is a broad program and they [Fish and Wildlife] made the decision that a NEPA analysis is not required," he said. "They said they would do some site-specific things, but they did not do that. They have never done a NEPA review or site-specific review. If they did, we'd have a better understanding of how the program works and the effects it has had, if any, on wild animal species. We want to know what the effects are, the direct and indirect accumulative impacts, but there is just no information."
Bishop said that animal fur exporting is big business and that pelts and parts are used all over the world.
"Some people have told me that it takes about 30 bobcat pelts to make a jacket, that it is popular in China or Russia, but I don't know a lot about the industry," he said.
Bishop said that exporting Canada lynx pelts from the lower 48 states is not allowed, but exporting lynx pelts from Alaska, where the animal is not a protected species, is allowed.
The lawsuit calls Fish and Wildlife's exclusion of the CITES program from proper NEPA analysis is "arbitrary, capricious, an abuse of discretion and otherwise not in accordance with law, and/or constitutes agency action unlawfully withheld or unreasonably delayed."
It asks the court to enjoin the defendants from allowing exports of pelts and parts, and to remand the matter to Fish and Wildlife with instructions to comply with NEPA. They also seek costs and attorneys' fees.
Co-counsel with Bishop is Sarah McMillan with WildEarth Guardians in Missoula.
To Learn More:
California Extends Bobcat Trapping Ban to the Entire State (by Ken Broder, AllGov California)
Retailer Sues West Hollywood over First-Ever Ban on Fur Sales (by Ken Broder, AllGov California)