U.S. Celebrates 500th "Targeted Killing" Since 2002: 3,674 Dead including 473 Civilians
Sunday, November 23, 2014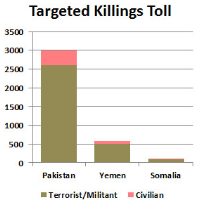 (graphic: Steve Straehley, AllGov)
Another milestone has been reached in the ongoing war against suspected terrorists in the Middle East and elsewhere—the United States has launched 500 attacks, or "targeted killings" in governmentspeak.
Micah Zenko at the Council on Foreign Relations published an accounting of attacks, overwhelmingly by drones, against people in Pakistan, Yemen and Somalia. Although sources don't always agree on the number of attacks, the realistic number reached through averaging is 500. The "targeted killings" aren't as well targeted as they might be; 473 civilians are among the 3,674 who have died in the attacks.
Four hundred fifty of the attacks have come during the administration of President Barack Obama with George W. Bush ordering the first 50.
Despite all those attacks, the number of al-Qaeda affiliates remains about the same, according to the State Department. The only category where the numbers appear to have fallen is among Al-Qaeda in the Arabian Peninsula, where the population has fallen from "several thousand" to 1,000.
Last month, according to The Bureau of Investigative Journalism, there were nine U.S. drone strikes in Pakistan and at least one and as many as three in Yemen. Between 33 and 83 people were reported to have been killed in the October strikes. Previous counts of those killed by drone strikes in Pakistan reveal that as few as 12% of the dead were identified as militants, according to the Bureau.
-Steve Straehley
To Learn More:
America's 500th Drone Strike (by Micah Zenko, Council on Foreign Relations)
October 2014 Update: U.S. Covert Actions in Pakistan, Yemen and Somalia (by Jack Serle and Abigail Fielding-Smith, Bureau of Investigative Journalism)
Only 12% of Pakistanis Killed by Drones Identified as Militants (by Noel Brinkerhoff, AllGov)
Majority of CIA Drone Attacks in Pakistan Hit Homes (by Steve Straehley, AllGov)
Total Drone Deaths in Pakistan Top 2,000 (by Steve Straehley, AllGov)