Only 12% of Pakistanis Killed by Drones Identified as Militants
Tuesday, October 28, 2014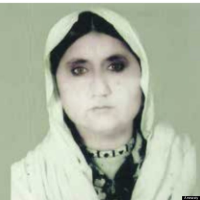 Mamana Bibi, a Pakistani grandmother killed in US drone strike (photo: Amnesty International)
More than 2,300 people in Pakistan have been killed in drone strikes by the United States. But only 12% of the victims were militants—those whom the U.S. has been targeting over the past 10 years, according to an investigation by the Bureau of Investigative Journalism (BIJ).
Of the 2,379 drone fatalities, the BIJ was able to identify only 704 of the Pakistani victims as part of its Naming the Dead project. Only 295 of those were identified as members of an armed group inside Pakistan, the probe revealed.
"More than a third of them were not designated a rank, and almost 30% are not even linked to a specific group," BIJ's Jack Serle reported. "Only 84 are identified as members of al Qaeda – less than 4% of the total number of people killed."
These findings "demonstrate the continuing complete lack of transparency surrounding U.S. drone operations," Mustafa Qadri, a Pakistan researcher for Amnesty International, told the bureau.
This month, the U.S. carried out its 400th drone strike since 2004 inside Pakistan.
-Noel Brinkerhoff
To Learn More:
Only 4% of Drone Victims in Pakistan Named as Al Qaeda Members (by Jack Serle, Bureau of Investigative Journalism)
Introducing the Naming the Dead Project (Bureau of Investigative Journalism)
Total Drone Deaths in Pakistan Top 2,000 (by Steve Straehley, AllGov)