Total Drone Deaths in Pakistan Top 2,000
Monday, February 03, 2014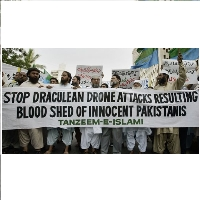 More than 2,200 people have been killed by U.S. drones operating in Pakistan since 2006, according to a report obtained by the U.K.-based group The Bureau for Investigative Journalism.
The document, compiled by the Pakistani government, lists the date and time of each strike, the number of people killed and injured in each attack and, in some cases, the names of the victims. The Bureau redacted many of the names to protect their identities.
This is the second such document obtained by the Bureau. An earlier version, released in July 2013, enumerated strikes from 2006 through 2009. The latest report lists more than 300 attacks from 2006 through much of 2013.
However, the document refers to victims as "local" or "non-local," rather than stating whether those killed or injured were terrorists or civilians. The change occurred in 2009, after President Barack Obama was inaugurated. Some observers suggest that the Pakistani government may have been persuaded to play down the number of civilians killed by drones in order to help the Obama administration.
"You cannot rule out a deliberate attempt not to include information on possible civilians or non-combatants being killed. It seems a huge coincidence that there's this change in reporting just as Obama enters power. But whatever the explanation and despite the lingering uncertainty, we know these figures are not presenting the full picture of the U.S. drone program," Mustafa Qadri, a researcher for Amnesty International, was quoted as saying in the Bureau report.
Even when a civilian death is well documented, the Pakistani government doesn't always report it. An attack in October 2012 killed Mamana Bibi, a grandmother who was in a field in North Waziristan. Some of her grandchildren, who were nearby, were injured by debris.
"If a case as well-documented as Mamana Bibi's isn't recorded as a civilian death, that raises questions about whether any state records of these strikes can be seen as reliable, beyond the most basic information," Qadri said.
Although the drone program is under increased scrutiny from domestic and international critics, even mild efforts to make it more transparent have failed. Obama attempted to move the drones from the domain of the CIA to the Pentagon, but was rebuffed by Congress.
-Steve Straehley
To Learn More:
Leaked Official Document Records 330 Drone Strikes in Pakistan (by Alice K. Ross, Bureau of Investigative Journalism)
The Toll Of 5 Years Of Drone Strikes: 2,400 Dead (by Matt Sledge, Huffington Post)
Secret Pakistan Report Documents High Civilian Death Toll from U.S. Drone Strikes (by Danny Biederman and Noel Brinkerhoff, AllGov)