U.S. and Britain Eavesdropped on World Leaders at 2009 Summits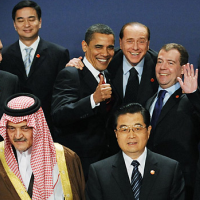 World leaders at 2009 summit (photo: Stefan Rousseau, AP)
The National Security Agency (NSA) and its counterpart in Great Britain eavesdropped on world leaders during summits held in London four years ago.
Details of the spying were included in documents provided by former NSA contractor Edward J. Snowden to the British newspaper The Guardian.
Britain's Government Communications Headquarters (GCHQ) worked closely with the NSA to monitor emails and phone calls of other countries' representatives at two London conferences in 2009. The snooping was carried out at an Internet café that was set up by intelligence operatives for dignitaries to use without them being aware of the monitoring. The diplomats' cell phone calls were intercepted and tracked by a team of 45 analysts.
It also was reported that the United States intercepted the communications of Dmitri A. Medvedev, then president and now prime minister of Russia.
The British targeted the finance minister and more than a dozen delegates from Turkey in an attempt to assess their position on a deal "to coordinate the global economic recovery to avoid the recession becoming a depression," according to one of the documents.
Neither American nor British officials commented on the news of the summit spying.
The latest disclosure surfaced just as representatives of the Group of 8 industrialized nations prepared to meet in Northern Ireland. Among those attending the meeting are some leaders who were spied on in 2009.
-Noel Brinkerhoff
To Learn More:
New Leak Indicates Britain and U.S. Tracked Diplomats (by Scott Shane and Ravi Somaiya, New York Times)
The Guardian: Britain, United States Spied at Summits (by Anthony Faiola, Washington Post)
Leaked Documents: NSA Intercepted Russian President's Communications (Ewen MacAskill, Nick Davies, Nick Hopkins, Julian Borger and James Ball, The Guardian)
GCHQ Surveillance – The Documents (The Guardian)
Concerned U.S. Allies Want Privacy Guarantees in Wake of NSA Revelations (by Noel Brinkerhoff, AllGov)