Concerned U.S. Allies Want Privacy Guarantees in Wake of NSA Revelations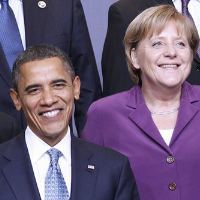 Barack Obama and Angela Merkel (photo: Pablo Martinez Monsivais, AP).jpg
America's allies are not happy with the U.S. government in the wake of the news about how far U.S. electronic spying can now reach across the world.
Leaders in Europe were reportedly "stunned" by details of the National Security Agency's PRISM program, which is capable of vacuuming enormous amounts of data.
Having learned of this data collection, foreign governments may now consider new privacy laws to protect their citizens from U.S. intelligence gathering.
In Germany, the issue of government snooping is especially sensitive, given the decades of domestic spying by the East German Stasi during the Cold War.
German Chancellor Angela Merkel said she plans to raise concerns with President Barack Obama when he visits Berlin next week.
The PRISM surveillance program was revealed to have collected more pieces of intelligence in Germany than anywhere else in Europe during March, according to information published by The Guardian.
Top officials from the European Union intend to press the issue as well with U.S. counterparts this week.
In anticipation of a public outcry, Britain's Foreign Secretary William Hague informed Parliament that British intelligence services have not colluded with the U.S. to circumvent the country's laws. He also appeared on BBC television to provide those same assurances to British citizens.
In Australia, the news out of the U.S. could make it more difficult to pass a law allowing the government to access Internet data at home, according to The Washington Post.
Some observers suspect that the leaders of foreign allies have known all along what the U.S. government was up to and are just posturing publically for domestic consumption.
-Noel Brinkerhoff
To Learn More:
Merkel, Other European Leaders Raise Concerns on U.S. Surveillance (by Michael Birnbaum, Washington Post)
NSA Spying Allegations Mean U.S. Could Provide 'Virtually Unlimited' Info on Citizens to Allies (by Andrew Osborne, Reuters)
Germans So Outraged at U.S. Over Spying that Merkel Will Raise the Issue Directly with Obama (by Max Fisher, Washington Post)
European Monitoring of Civilians Still Far Less than U.S. (Agence France-Presse)
Lawmakers Refute Obama's Claim that Full Congress Knew about NSA Program (by Noel Brinkerhoff and Danny Biederman, AllGov)
Obama Administration Orders Verizon to Turn over all Call Records (by Noel Brinkerhoff, AllGov)