U.S. and 190 Nations Adopt Climate Plan to Offset Jet Emissions from International Flights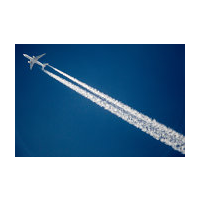 (photo: Mark Burban, Getty Images)
By Henry Fountain, New York Times
Governments from more than 190 countries on Thursday adopted a measure that for the first time will reduce the climate effect of international jet travel.
The aviation plan, the product of years of negotiations, was approved by acclamation at a meeting of the International Civil Aviation Organization in Montreal.
The measure could force air carriers to take major steps to improve fuel economy in their routes and fleets, very likely accelerating the purchase of newer, more efficient planes. Carriers may pass the cost of the program on to consumers in higher airfares, though most experts think any increases would be relatively small.
Leaders hailed the accord, which will take effect in 2021, as a major step in reducing the environmental effect of international aviation, which is responsible for about 2 percent of worldwide emissions of greenhouse gases.
On Tuesday, with the ratification of that pact by the European Union, it reached a threshold — acceptance by countries responsible for more than 55 percent of the world's emissions — that causes it to go into effect. It is expected to enter into force before the next large United Nations climate meeting, in Morocco in early November.
The aviation measure will be voluntary for the first six years, and even countries that commit to it voluntarily will be allowed to opt out on relatively short notice.
Under the program, airlines will buy credits to offset emissions from individual flights. The credits will come from alternative energy installations, forest conservation programs and other projects that prevent some amount of greenhouse gas emissions.
Some environmental groups said the plan did not go far enough, forecasting that it would fall short of the goal originally set by the aviation organization to offset all of the growth in emissions from air travel after 2020.
The measure also exempts many smaller countries that do not have large international air carriers, and because of rules on competition, that could mean that some popular routes from participating countries could be exempt as well.
To Learn More:
EPA Targets Airplane Emissions (by Sean Duffy, Courthouse News Service)
U.N. Proposal for Aircraft Greenhouse Gas Emission Standards Criticized by Environmentalists (by Joan Lowy and Michael Biesecker, Associated Press)
EPA to Regulate Airplane Emissions but Industry-Friendly International Standards May Be Its Guide (by Noel Brinkerhoff and Steve Straehley, AllGov)