EPA Targets Airplane Emissions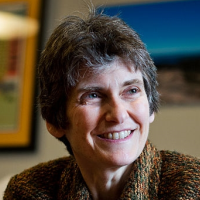 EPA's Janet McCabe (photo: Tom Williams, Getty Images)
By Sean Duffy, Courthouse News Service
(CN) — The U.S. Environmental Protection Agency said Monday that it would crack down on airplane emissions due to impacts of jet exhaust on climate change and human health.
The EPA said it will use its authority under the Clean Air Act to limit aircraft emissions, which have largely been overlooked in the international conversation on climate change despite their contributions to current environmental issues.
Jet engines release significant amounts of gases like carbon dioxide and methane, though they have not been addressed in recent climate change agreements. Aircraft emissions account for between two to five percent of all global greenhouse emissions.
Airlines and aircraft makers have stridently opposed efforts to limit aircraft emissions, the bulk of which comes from takeoffs and landings.
Janet McCabe, the EPA's acting assistant administrator for air and radiation, addressed the significance of reducing these emissions, which are released into the upper atmosphere and trap heat from the sun.
"Addressing pollution from aircraft is an important element of U.S. efforts to address climate change," McCabe said, noting that aircraft are the third largest contributor of greenhouse gas emissions in the U.S. transportation sector, behind cars and trucks.
And airplanes' contribution to greenhouse gas emissions could increase as well, since cars and trucks have had to adjust to more stringent emissions standards.
The Paris Agreement, a landmark United Nations-based partnership on climate change, did not address aircraft emissions.
In February, the U.N. International Civil Aviation Organization proposed new emissions standards for international flights that would require an average 4 percent reduction in fuel consumption during the cruising phase of flight. This was met with some criticism from environmentalists who felt the standards did not go far enough since fuel economy is already the best at cruising altitude and speed.
Marcie Keever, legal director for the environmental group Friends of Earth, welcomed new regulations for aircraft despite limited progress in the past.
"The EPA's nine-year delay on regulating aircraft emissions failed the American people. Now it's time for the Obama administration to issue a strong rule, to hold the aviation industry accountable," she said.
Environmentalists have also debated findings from studies cited by the U.N. and the EPA, which state that aviation accounts for less than two percent of greenhouse gas emissions. Activists have argued that airplanes actually account for about five percent of greenhouse gas emissions.
"People should not have to choose between mobility and a healthy climate, Keever said.
To Learn More:
U.N. Proposal for Aircraft Greenhouse Gas Emission Standards Criticized by Environmentalists (by Joan Lowy and Michael Biesecker, Associated Press)
EPA to Regulate Airplane Emissions but Industry-Friendly International Standards May Be Its Guide (by Noel Brinkerhoff and Steve Straehley, AllGov)