U.N. Torture Expert Says U.S. Officials Stymied Years of Efforts to Visit American Prisons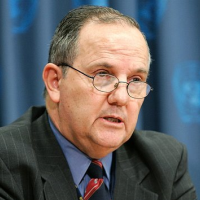 Juan Mendez (photo: Mark Garten, U.N.)
GENEVA (AP) — A U.N. expert on torture, degrading and inhuman treatment is decrying "unsatisfactory results" following years of efforts to visit prisons in the United States.
Special rapporteur Juan Mendez says U.S. officials continue to set what he considers excessively strict conditions for his visits, such as on which inmates he could see.
Mendez told reporters Wednesday: "If I accept terms like that, every other government is going to demand the same treatment, and rightly so."
Mendez mainly wants to examine use of solitary confinement. He said he received a letter Tuesday from the U.S. mission in Geneva indicating U.S. officials were "still working" on his request to visit the super-maximum-security ADX facility in Colorado.
He said one "good thing" in the letter was authorization to visit Riker's Island in New York.
To Learn More:
First UN Review in 8 Years Finds U.S. Torture Violations (by Noel Brinkerhoff, AllGov)
UN Wants to Investigate California Prisons for Torture (by Ken Broder, AllGov California)
Does Solitary Confinement in U.S. Prisons Qualify as Torture? (by Noel Brinkerhoff, AllGov)