First UN Review in 8 Years Finds U.S. Torture Violations
Tuesday, December 02, 2014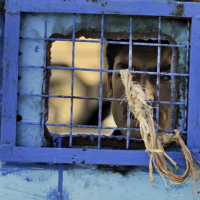 (AP photo)
The United States still has work to do when it comes to being compliant with an international treaty banning the use of torture, according to the United Nations.
The UN Committee Against Torture issued its first report (pdf) in eight years on torture by the U.S., and cited "numerous areas where there are things that should be changed to be fully compliant" with the United Nations Convention Against Torture, panel member Alessio Bruni said.
After spending two days talking with U.S. government officials, the UN body found problems with American rules of interrogation, police shootings of unarmed African-Americans and the use of solitary confinement in prisons. Furthermore, the report criticized the Obama administration for not fully investigating the use of torture by the Central Intelligence Agency (CIA) during the George W. Bush presidency. It also mentioned the holdup of a U.S. Senate committee investigative report into CIA torture and detention of detainees.
The continued use of Guantanamo Bay to imprison foreign residents without trial was discussed in the report, along with reports of the "draconian system of secrecy" surrounding certain detainees at the facility.
"The prison reportedly hid detainees' claims of torture from investigators, and the panel warned that indefinite detention of terrorist suspects without charge or trial would be considered a breach of the anti-torture treaty," The New York Times reported.
The United States did get points for accepting that the treaty's ban on cruelty applies outside the country for places the U.S. "controls as a governmental authority". Examples of such locations were Guantanamo and U.S. flagged ships and aircraft. It was also noted that the treaty was acknowledged to apply during armed conflict.
-Noel Brinkerhoff
To Learn More:
Concluding Observations on the Third to Fifth Periodic Reports of United States of America (Committee against Torture) (pdf)
U.N. Committee Criticizes U.S. Record on Torture, Praises U.S. on Extraterritorial Reach of Treaty (by Ryan Goodman and Eric Messinger, Just Security)
U.N. Panel Cites Concerns With U.S. Security Practices (by Nick Cumming-Bruce, New York Times)
Nobel Peace Prize Winners Press Obama to Take Firmer Stand against Torture (by Noel Brinkerhoff, AllGov)
U.N. Calls on Obama to Publish Findings on Bush-Era Torture (by Noel Brinkerhoff, AllGov)