Does Solitary Confinement in U.S. Prisons Qualify as Torture?
Tuesday, October 22, 2013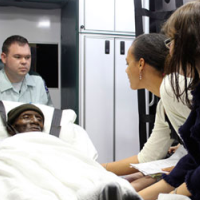 Herman Wallace (photo: Lauren Mcgaughy, AP)
Prisons across the United States have subjected inmates to solitary confinement for years and even decades, raising the question whether this practice constitutes cruel and unusual punishment, or even torture.
On any given day about 81,000 prisoners in the U.S. are confined within some sort of "restricted housing" unit inside a correctional facility, where they have virtually no human contact.
At some prisons, such as those in Pennsylvania, solitary confinement means even being denied family photographs or magazines pictures.
That's why Human Rights Watch said in a 2012 report that conditions inside "maximum security" facilities often "exceed the fathomable."
Some members of the United Nations, like Juan E. Mendez, the Special Rapporteur on torture and other cruel, inhuman and degrading treatment or punishment, have argued that what the U.S. is doing amounts to torture.
Mendez cites the U.N. Convention Against Torture (CAT), which states that keeping prisoners in solitary for more than 15 days constitutes a violation of international law.
His office has insisted since 2011 that all nations ban the use of solitary confinement "except in the most extreme circumstances and for as short a time as possible."
Another international body, the U.N. Office of the High Commissioner for Human Rights (OHCHR), has called on the U.S. to end the indefinite isolation of Albert Woodfox, which has lasted since 1972.
Woodfox, along with two other prisoners, Herman Wallace and Robert King, spent a combined 100 years in isolation at the Angola State Prison. The three had been convicted of armed robbery in 1971, and Woodfox and Wallace were convicted of the murder of a prison guard two years later. The three men spent decades in isolation because they spoke out about racial segregation in the prison, according to human rights groups.
King was released in 2001 after experiencing 31 years in total isolation. Wallace endured 41 years under the same circumstances, and was finally released on October 1. He died three days later of liver cancer.
"The circumstances of the incarceration of the so-called Angola Three clearly show that the use of solitary confinement in the U.S. penitentiary system goes far beyond what is acceptable under international human rights law," OHCHR stated earlier this month.
-Noel Brinkerhoff
To Learn More:
The U.S.'s 64-Square-Foot "Torture Chambers" (by Pam Johnson, Inter Press Service)
U.N. Torture Investigator Seeks Access to California Prisons (by Paige St. John, Los Angeles Times)
Torture: The Use of Solitary Confinement in U.S. Prisons (Center for Constitutional Rights)
U.S. Prisoner has Spent 28 Years in Solitary Confinement (by David Wallechinsky, AllGov)