The FBI, 44 Dead Policemen and a Bomb Maker's Finger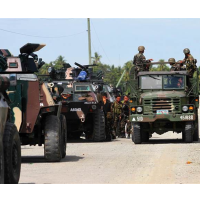 Philippine forces at Mamasapano (photo: Mark Navales, AFP/Getty Images)
At the urging of the Federal Bureau of Investigation (FBI), the Philippines went after a wanted Malaysian bomb maker hiding out with separatist Muslim guerillas who have fought a decades-long war with Manila.
The result: the bomber, Zulkifli Abdhir (aka "Marwan"), was killed in a January 25 raid carried out by the Special Action Force of the Philippine National Police. But the mission, conducted in the town of Mamasapano, proved costly for the police force, which lost 44 men during the botched raid. Thirty-five members of the elite unit were picked off in a cornfield one by one by Moro Islamic Liberation Front snipers.
The surviving commandoes weren't even able to bring back Marwan's body as a result of getting attacked by the Moro fighters. They had to settle for cutting off Marwan's finger to prove to the FBI that the bomb maker, who was on the bureau's list of most wanted terrorists, was dead.
There also has been considerable political fallout in the Philippines from what's now known as the "Mamasapano Massacre."
"The episode has severely discredited the administration of Philippine President Benigno Aquino III, jeopardized decades of progress on peace talks with Moro separatists, and underlined the perils for developing world governments that put themselves at the beck and call of Washington," Walden Bello wrote at Foreign Policy in Focus.
The United States supported Philippine forces during the raid, providing intelligence, combat training, maps, equipment and surveillance that could be viewed on TV sets, according to a Philippine senate investigation.
-Noel Brinkerhoff
To Learn More:
The U.S. Military Just Plunged Philippine Politics into Crisis (by Walden Bello, Foreign Policy in Focus and The Nation)
Deadly Filipino Anti-Terror Raid Bittersweet for U.S. Forces (by Jim Gomez, Associated Press)
Mamasapano Clash (Wikipedia)