Only 44 of 190 Countries Meet Goal of 30% Women in Legislature…U.S. Isn't One of Them
Wednesday, September 02, 2015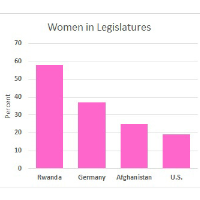 Graphic: Steve Straehley/AllGov
Twenty years ago, world leaders set a goal of having women make up 30% of all lawmakers. Only 44 nations have managed to achieve this and the United States isn't one of them.
Some nations have managed to surpass the 30% goal. Rwanda, with 64%, is by far the world leader in this category, followed by Bolivia at 53%. They're the only countries in which women comprise more than half of the national legislatures.
The U.S. is only at 20% in its Senate and 19% in the House, giving it an overall percentage of 19%. That's good for the 75th best among world nations and puts the United States one better than Tajikistan, but two behind that noted wellspring of women's rights, Saudi Arabia.
The delegates at the Fourth World Conference of Speakers of Parliament haven't given up though. They're giving the world five more years. "We deplore the excruciatingly slow progress in securing a greater presence of women in parliament and commit to redoubling our efforts to reach, as a global average, the internationally agreed target of 30 percent of women members in parliament by 2020," the conference's draft declaration said, according to The New York Times.
Things are better among the U.S. states, with 11 state legislatures reaching the 30% threshold:
Arizona (35.6%)
Colorado (42%)
Illinois (31.1%)
Maryland (31.4%)
Minnesota (33.3%)
Montana (31.3%)
Nevada (33.3%)
New Jersey (30%)
Oregon (31.1%)
Vermont (41.1%)
Washington (33.3%)
-Noel Brinkerhoff, Steve Straehley
To Learn More:
Most Nations Miss a Goal for Women in Leadership (by Somini Sengupta, New York Times)
World Classification (Women in National Parliaments)
Women in State Legislatures for 2015 (National Conference of State Legislatures)
U.S. Ranks behind 103 Countries in Percentage of Women in National Legislature (by Steve Straehley, AllGov)