New U.S. Counterterrorism Playbook to Exclude Pakistan from Drone "Kill" Rules
Wednesday, January 23, 2013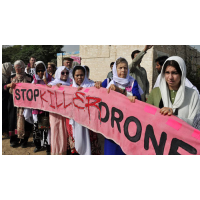 Pakistani women protest U.S. drones (photo: Mohammad Hussain, AP)
The Central Intelligence Agency's (CIA) drone campaign in Pakistan will not be bound by new counterterrorism rules that the Obama administration is finalizing.
The rules, referred to as the "playbook" by officials, are supposed to establish parameters for killing overseas threats. Once completed, the playbook will detail how names are added to assassination lists, which legal principles justify the killing of U.S. citizens, and what offices must sign off before drone strikes are carried out.
But the CIA will be exempted from the rules for at least a year. Agency leaders objected to being bound by the playbook, citing the pressing need to continue bombing Taliban and al-Qaeda targets in Pakistan before the U.S. withdraws from neighboring Afghanistan, where the drones are based.
Greg Miller of The Washington Post wrote that the drafting of "the playbook was nearly derailed late last year by disagreements among the State Department, the CIA and the Pentagon on the criteria for lethal strikes and other issues. Granting the CIA a temporary exemption for its Pakistan operations was described as a compromise that allowed officials to move forward with other parts of the playbook."
Critics of the government assassination program view the playbook as indicative of the institutionalization of the U.S. killing policy. It is "a step in exactly the wrong direction," Hina Shamsi, director of the American Civil Liberty Union's National Security Project, told the Post. She called it "a further bureaucratization of the CIA's paramilitary killing program."
-Noel Brinkerhoff
To Learn More:
CIA Drone Strikes Will Get Pass in Counterterrorism 'Playbook,' Officials Say (by Greg Miller, Washington Post)
CIA Increases Drone Killings of Pakistanis Who "Might be Militants" (by Noel Brinkerhoff, AllGov)
Unnamed U.S. Official Denies Drones Have Killed 168 Children in Pakistan (by Noel Brinkerhoff, AllGov)