Judge Rules Terrorism Victims can Seize $500 Million Midtown Manhattan Office Tower Owned by Iranians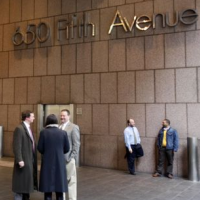 (photo: Seth Wenig, AP)
Victims of 9/11 and other terror attacks have won another ruling in their legal battle to seize control of a Manhattan high-rise worth at least half a billion dollars and linked to the Iranian government.
Plaintiffs in the case have fought for three years to take ownership of the 36-story building at 650 Fifth Ave., whose value could be as much as $700 million and is owned by the Alavi Foundation and Assa Corp.
They won their first victory in 2011, when U.S. District Judge George Daniels ruled in a default judgment that Iran was partly liable for the September 11, 2001, attacks because it provided travel support to terrorists.
In September 2013, another federal judge, Katherine Forrest, decided the majority interest held by Assa Corp. and the Alavi Foundation was a front for Iran's Bank Melli, making it a front for the Iranian government. Forrest also ruled that the U.S. government could take control of the building. That ruling is being appealed.
Then, last week, Forrest ruled that Alavi and its front, 650 Fifth Ave. Co., must forfeit the building to the plaintiffs. Forrest also included another seven Alavi-only properties in five states and three bank accounts in her ruling.
"The undisputed facts show that defendants Assa, Alavi, and 650 Fifth Avenue 'are' the Government of Iran within the meaning" of the Terrorism Risk Insurance Act of 2002 and the Foreign Sovereign Immunity Act, Forrest wrote.
The plaintiffs include numerous individuals who claim they were victimized by various terrorism acts supported by Iran, including 1983 bombings in Beirut, Lebanon.
Forrest also ruled for the U.S. government on the forfeiture of those seven Alavi properties, including an investment in a Queens building worth $5.9 million, because they represent proceeds from both illegal money laundering and violations of the International Emergency Economic Powers Act, according to the New York Law Journal.
"This is about all the families," Fiona Havlish, whose husband, Donald Havlish, was killed in the World Trade Center on 9/11, told the New York Daily News. "There really is a light at the end of the tunnel."
The judge's next job will be to rule on a claim of priority on the proceeds from the sale of the building by the family of the late Charles Hegna, who was tortured and murdered in Tehran in 1984 following a hijacking of a Kuwaiti Airlines plane by Hezbollah. Hegna's family won a $375 million judgment against the Republic of Iran in 1994.
-Noel Brinkerhoff
To Learn More:
Forfeiture Brings Claimants Closer to Iran Judgments (by Mark Hamblett, New York Law Journal)
Terrorism Victims Win Right to Seize $500M Midtown Office Tower Linked to Iran after Long Legal Battle (by Daniel Beekman, New York Daily News)
In Re 650 Fifth Avenue and Related Properties (U.S. District Court, Southern New York)
U.S. Plans to Seize Manhattan Skyscraper Said to be Secret Front for Iranian Government (by Noel Brinkerhoff, AllGov)