Italians Object to U.S. Rifle Ad Using Michelangelo's David
Wednesday, March 12, 2014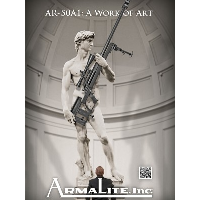 An American gun manufacturer has outraged Italians over what they say is a crass manipulation of Renaissance art just to sell an assault weapon.
Illinois-based ArmaLite produced an advertisement showing Michelangelo's David holding an AR-50A1 bolt-action rifle.
The ad, which includes the line "a work of art," was published in major Italian newspapers and websites. The condemnation from government and cultural fronts was sharp and immediate.
Dario Franceschini, Italy's minister of culture, called the photoshopped image offensive, and demanded ArmaLite withdraw the ad.
"The image of David, armed, offends and infringes the law," Franceschini posted on Twitter. "We will take action against the American company so that it immediately withdraws its campaign."
The Italian government says it owns the copyright on commercial uses of the statue's image, giving it grounds to sue ArmaLite.
Florence's Accademia Gallery, where the statue is on display, echoed Rome's displeasure over the advertising.
"The law says that the aesthetic value of the work cannot be distorted," Angelo Tartuferi, the gallery's director, reportedly told Repubblica newspaper. "In this case, not only is the choice in bad taste but also completely illegal."
One Italian observer, author and critic Luca Nanniperi, took exception to the widespread outrage. Writing in the daily Il Giornale he reminded readers that several other iconic Italian works of art had previously been used in corporate PR campaigns. Among them, he said, was the image of the Mona Lisa, which was incorporated into ads by beverage company Ferrarelle, and Botticelli's Venus used by the weight loss firm SlimFast.
"Is the widespread indignation justified?" asked Nanniperi.
The image of the biblical hero David, shown heavily armed in ArmaLite's ad, was derived from the 17-foot marble sculpture by Michelangelo, which was unveiled in 1504. Housed in the Accademia Gallery since 1873, the artwork is a major tourist attraction that has drawn millions of visitors.
-Noel Brinkerhoff, Danny Biederman
To Learn More:
Italy Up in Arms over Michelangelo's David Rifle Advert (BBC News)
Italy Tells US Gun Firm To Remove Michelangelo's David from Advert (by Josephine McKenna, The Telegraph)