Israelis Linked to Settler Terrorism were from U.S. Families
Wednesday, September 09, 2015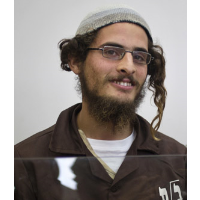 Terror suspect Meir Ettinger--Ariel Schalit/AP
A horrific act of terrorism in the West Bank this summer is suspected to have been perpetrated by Israeli extremists with American roots.
In the village of Duma on July 31, the home of a Palestinian family was firebombed, killing an 18-month-old child, Ali Dawabsheh, who was burned to death, according to media reports. The child's father, Sa'ed and four-year-old brother Ahmed suffered serious burns, but survived. Ali's mother, Riham, died Sunday of her burns. Their home was sprayed with graffiti reading "revenge" in Hebrew and featured a Star of David.
"All available evidence suggests that the blaze was a deliberate act of settler terrorism," Sara Yael Hirschhorn wrote at The New York Times. "More disturbingly, several of the alleged instigators, currently being detained indefinitely, are not native-born Israelis — they have American roots."
Although not so far charged with the fire that killed the Dawabshehs, four youths believed to be connected to settler terrorism have been incarcerated by Israeli officials. They are Meir Ettinger, 24, grandson of Meir Kahane, a radical American rabbi who served in Israel's parliament; Mordechai Meyer, 18, the son of American immigrants; American Ephraim Khantsis; and Eviatar Slonim, the child of Australian Jews.
The fire is thought to be a so-called "price tag" attack. Radical Israeli settlers commit such crimes as a response to their government's efforts to dismantle illegal West Bank Jewish settlements.
-Steve Straehley, Noel Brinkerhoff
To Learn More:
Israeli Terrorists, Born in the U.S.A. (by Sara Yael Hirschhorn, New York Times)
How the Killing of an 18-Month-Old Boy in the West Bank Exposed the Israeli Authorities Failure to Stem Tide of Jewish Extremists (by Ben Lynfield, The Independent)
Israelis Killed more Palestinians Last Year than in any Year since 1967 (by David Wallechinsky and Steve Straehley, AllGov)
U.S. Only Country of 47 to Vote against Investigating Possible Human Rights Violations during Israeli Occupation of Gaza (by Noel Brinkerhoff, AllGov)