Israelis Killed more Palestinians Last Year than in any Year since 1967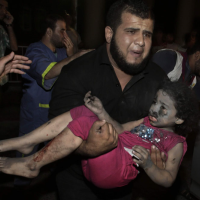 A Palestinian man carries an injured girl into the Shifa hospital following Israeli strikes in Gaza City (AP Photo)
The year 2014 was a dangerous one to be a Palestinian. More Palestinians were killed by Israel than in any year since the occupation of Palestinian territories began in 1967.
According to a report (pdf) by the United Nations Office for the Coordination of Humanitarian Affairs in 2,314 Palestinians were killed last year and an estimated 17,125 were injured in fighting with Israeli forces. That compares to 87 Israelis killed in the hostilities. Israeli injuries totaled an estimated 2,629.
Most of the deaths came in the fighting in Gaza between July 7 and August 26. During those hostilities, 2,220 Palestinians were killed, 1,492 of them civilians, 551 of whom were children. This included 142 Palestinian families who saw three or more family members killed because of attacks on their residences. These attacks on residential buildings accounted for 742 deaths.
During the Gaza fighting, 71 Israelis were killed, 66 of them soldiers.
Deaths were also up among West Bank and East Jerusalem Palestinians. There were 58 Palestinians killed by Israeli forces last year, as opposed to 28 in 2013 and eight the year before. Sixteen Israelis were killed as a result of conflict in this region in 2014, compared to four the previous year and none in 2012. Most of the 6,028 injuries were caused by rubber-coated metal bullets or tear gas inhalation.
The U.N. report criticized both sides in the conflict for their failure to adequately distinguish between civilians and combatants. It urged the Israelis to refrain from launching attacks that endanger non-combatants when deaths and injuries to civilians "would be excessive in relation to the military advantage anticipated." The report urged Palestinian armed groups to "refrain from the indiscriminate firing of rockets and other projectiles at Israel and not endanger civilians by using their neighborhoods to launch attacks and shield combatants.
Although the Israeli Military Advocate General announced criminal investigations into 19 "exceptional incidents," the authors of the report, based on previous experiences, were not optimistic about the issue of accountability. For example, following the Gaza War of 2008-2009, in which Israeli forces killed an estimated 759 Palestinian civilians, "only three soldiers were convicted, with the longest sentence involving the theft of a credit card."
There is no evidence that Palestinian authorities have ever investigated possible human rights violations by Palestinian armed groups.
In a separate report, Amnesty International accused Palestinian armed groups of committing war crimes "by repeatedly launching indiscriminate rockets and mortars towards civilian areas in Israel." A previous report accused the Israelis of committing war crimes.
-David Wallechinsky, Steve Straehley
To Learn More:
Fragmented Lives (United Nations Office for the Coordination of Humanitarian Affairs occupied Palestinian territory) (pdf)
U.S. Only Country of 47 to Vote against Investigating Possible Human Rights Violations during Israeli Occupation of Gaza (by Noel Brinkerhoff, AllGov)