Irresponsible Drug Waste Dumping by Pharmaceutical Firms Found to Fuel Rise of Antibiotic-Resistant Superbugs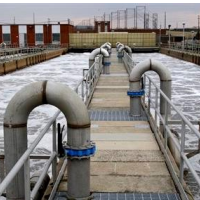 Wilmington Wastewater Treatment Plant may have leaked drug waste into Delaware River (photo: Matt Rourke, AP)
Overuse of antibiotics involves more than just doctors overprescribing them or farmers giving them to their livestock. It also goes to the source itself—pharmaceutical companies—and the waste they dump into the environment.
A new report (pdf) from the consumer advocacy group SumOfUs cites several examples of drug manufacturers contributing to the presence of antibiotics in the food chain, which has led to the rise of drug-resistant superbugs.
One of Pfizer's antibiotics suppliers in China, NCPC, discharges pharmaceutical waste into the environment. Generic drug company McKesson contracts with an Indian company, Aurobindo, which in turn gets drug supplies from four polluting Chinese factories. And Teva, based in Israel, deals with three Chinese companies that "have been in the Chinese media spotlight for various offenses including improper waste management and the release of noxious chemicals," the study says.
"This is a huge problem with a simple solution: Pharmaceutical companies must reveal where they source their antibiotics from and stop buying from polluting factories," Paul Ferris, campaign director for SumOfUs, said in a press release. "Good environmental stewardship and health are intrinsically linked—dumping antibiotics in the environment could be harming the health of everyone on this planet."
Researchers from Sweden studying the water supplies around the pharmaceutical center of Hyderabad, India, found them contaminated with various kinds of drugs that had been released by manufacturing plants there.
-Noel Brinkerhoff
To Learn More:
Big Pharma's Hidden Hand in Rise of Antibiotic-Resistant Superbugs (by Sarah Lazare, Common Dreams)
Who Is Responsible For Antibiotic Resistance? (by Judy Stone, Forbes)
Bad Medicine (SumOfUs) (pdf)
The Deadly Disease Caused by Antibiotics (by Noel Brinkerhoff and Steve Straehley, AllGov)
23,000 Americans Die Annually from Antibiotic-Resistant Infections (by Noel Brinkerhoff, AllGov)