FBI Accuses Chinese Government of Out-of-Control Economic Espionage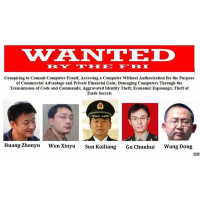 Hackers working at the behest of the Chinese government, who are blamed in the theft of 22 million personnel records from the U.S. Office of Personnel Management, are after other targets as well. The Federal Bureau of Investigation (FBI) says that attacks against industrial secrets are spiking and that China is to blame.
The hackers are looking for information on everything from electronics to plant seeds—anything to put Chinese manufacturers on an equal footing with those from the United States which did the original research and development on a product. Last year, a California businessman was convicted of selling China the secret to what makes Oreo cookie filling so consistently white. Others have been charged with stealing plant seeds.
China's intelligence services are "as aggressive now as they've ever been," FBI Assistant Director Randall Coleman, who runs the bureau's counterintelligence division, said at a recent news conference, according to The Daily Beast. Coleman said the number of industrial espionage cases investigated by the FBI in the past year is up 53%. An FBI survey of 165 companies showed that half had been targeted by foreign spies and the Chinese were suspected in about 95% of those cases.
The FBI is even trying to alert businesses to the threat with a short film, "The Company Man: Protecting America's Secrets," which depicts how a company was targeted for espionage.
-Steve Straehley
To Learn More:
FBI Probes 'Hundreds' of China Spy Cases (by Shane Harris, Daily Beast)
Economic Espionage FBI Launches Nationwide Awareness Campaign (FBI)
Is Chinese Theft of U.S. Corn Seeds a National Security Issue or just another Example of Sleazy Business? (by Noel Brinkerhoff and Steve Straehley, AllGov)
California Businessman Sentenced for Economic Espionage to Help China (by Ken Broder, AllGov California)
Two Americans Convicted of Economic Espionage for China (by Noel Brinkerhoff)