European Court Rules War Resister must Prove His Service Would Include War Crimes in Iraq to Qualify for Refugee Status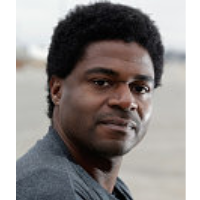 André Shepherd (photo: Johannes Simon, Getty Images)
A U.S. Army deserter seeking asylum in Germany must prove that his service would have resulted in the commission of a war crime in order to justify his case as a refugee, a European court has ruled.
André Shepherd of Cleveland, Ohio, has been trying for eight years to remain in Germany after deserting from the Army during the Iraq war. After serving six months in 2004 and 2005 in Iraq repairing Apache helicopters, Shepherd and his unit were relocated to Germany, where he was stationed for two years.
In 2007, he received word that his unit would be redeployed to Iraq. By then, Shepherd had decided he could no longer support the war and objected to going back to Iraq on conscientious grounds. Shepherd left his post and appealed to the German government for asylum. The German government, however, rejected his request, and German courts referred his case to the European Court of Justice in Luxembourg.
Europe's highest court ruled this week that Shepherd must prove that he would be committing a war crime, if only indirectly, if he was providing "indispensable support" to the commission of the crimes to qualify as a refugee. The court also said the Army specialist would "probably be unable to claim asylum on the grounds of fear of imprisonment or persecution in the U.S.," according to The Guardian.
"It does not appear that the measures incurred by a soldier because of his refusal to perform military service, namely the imposition of a prison sentence or discharge from the army, may be considered … so disproportionate or discriminatory as to amount to acts of persecution," the court said.
The European court ruling sends the case back to the German court system.
-Noel Brinkerhoff, Steve Straehley
To Learn More:
U.S. Deserter Needs Proof of War Crimes in Iraq to Seek Asylum, Court Rules (by Ian Traynor, The Guardian)
An American in Bavaria Makes an Unusual Request for Asylum (DW)
Top European Court Deals Blow to Iraq War Resister Seeking Asylum (by Sarah Lazare, Common Dreams)
U.S. Soldier who Considered Fighting in Iraq War a War Crime may Qualify for Asylum in Germany (by Noel Brinkerhoff, AllGov)