U.S. Soldier who Considered Fighting in Iraq War a War Crime may Qualify for Asylum in Germany
Friday, November 14, 2014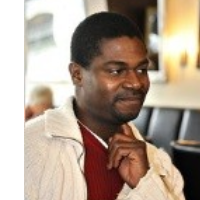 André Shepherd (photo: John Macdougall, Agence France-Presse/Getty Images)
André Shepherd of Cleveland, Ohio, may yet become the first American soldier to gain asylum in Germany.
The Army specialist has been trying for seven years to remain in Germany after deserting from the military during the Iraq war.
Shepherd enlisted in the Army in 2003, and served a full tour in Iraq providing maintenance to Apache helicopters until 2005. His unit was then relocated to Germany, where he was stationed until 2007. That's when the Army deployed his unit back to Iraq, to which Shepherd objected on conscientious grounds.
He had come to the conclusion that the U.S. war in Iraq was wrong, and that his support for Apaches contributed to war crimes because the attack helicopters "had been increasingly used to drop bombs indiscriminately—and increasingly catching civilians in the crossfire," William Dotinga wrote at Courthouse News Service. So Shepherd left his post and appealed to the German government for asylum.
That request moved closer to becoming a reality after an advisor to the European Court of Justice issued a legal opinion saying European law (referred to as the Qualification Directive) does cover asylum requests for someone like Shepherd.
"Including support personnel is, moreover, consistent with the Qualification Directive's overarching aim of identifying those persons who are forced by circumstances to seek protection in the European Union and are genuinely in need of it," Advocate General Eleanor Sharpston wrote. "Where a person is able to show that if he performed military service he would be involved in committing one of the acts identified as reasons for exclusion in the directive, there is no plausible reason for excluding him (there is, indeed, good reason to think that he may genuinely need protection)."
The European Union's high court has begun to deliberate in Shepherd's case. Since he left the Army, Shepherd has married, has a job as a system administrator and is working on improving his German. He faces 18 months in prison if he's convicted of desertion.
-Noel Brinkerhoff
To Learn More:
Andre Lawrence Shepherd v. Bundesrepublik Deutschland (Advocate General Sharpston) (pdf)
EU Asylum Possible for Iraq War Deserter (by William Dotinga, Courthouse News Service)
Former U.S. Soldier's Bid for Political Asylum in Germany Drags on (by Steven Beardsley, Stars and Stripes)