Democratic Success in Governor Elections Plunges to Lowest Rate in more than a Century
Tuesday, November 17, 2015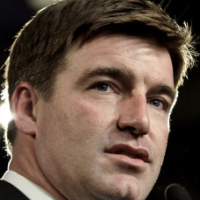 Kentucky's Jack Conway—Garry Jones/AP
The current decade has been a historically ugly one for Democrats running for governor.
So far in the 2010s Democratic gubernatorial candidates have a winning percentage of 37%, according to Smart Politics. That rate is the lowest since the turn of the 20th century, Eric Ostermeier concluded after examining the results of nearly 1,900 gubernatorial elections since 1900.
Democrats have won only 34 of the 92 gubernatorial elections since 2010, or 37%, while Republicans have won 56 races. Three races—two in Rhode Island and one in Alaska—were claimed by independents.
The most recent Democratic victims, earlier this month, were Jack Conway in Kentucky and Robert Gray in Mississippi. Pre-election polls even showed Conway with a clear lead over Republican Matt Bevin. However, Bevin routed Conway, who won only 43.8% of the vote. Gray was widely expected to lose his race, but the 32.1% of the vote he picked up against incumbent Republican Phil Bryant was an all-time low for that state's Democrats.
"The Democratic electoral drought of the 2010s most closely resembles that of the 1900s, when the party won just 68 of 181 elections, or 37.6 percent," Ostermeier wrote.
The party's best decade came during the Great Depression, when Democrats won 127 of 182 races for governor, or 70%, during the 1930s.
-Noel Brinkerhoff, Steve Straehley
To Learn More:
Democrats Winning Governorships at Lowest Rate since 1900 (by Dr. Eric Ostermeier, Smart Politics, University of Minnesota)
Kentucky Democrats Turn in Worst Showing in Gubernatorial Race since the Civil War (by Dr. Eric Ostermeier, Smart Politics, University of Minnesota)
Republicans Have Chosen Presidential and Vice-Presidential Candidates from Western States in 17 Elections; Democrats 0 (by Noel Brinkerhoff, AllGov)
10 Governors Elected in 2014 with Less than 50% of Vote (by Noel Brinkerhoff, AllGov)