10 Governors Elected in 2014 with Less than 50% of Vote
Thursday, December 11, 2014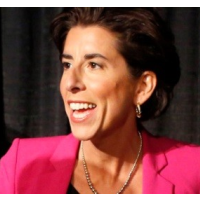 Gina Raimondo of Rhode Island won only 40.7% of the vote (AP photo)
Winning isn't always pretty, as 10 governors who won their races last month can attest.
Five Democrats, four Republicans and one independent were victorious in their gubernatorial campaigns without the support of a majority of voters in their states.
The Democratic victors were John Hickenlooper of Colorado (49.3%), David Ige of Hawaii (49.5%), John Kitzhaber of Oregon (48.9%), Gina Raimondo of Rhode Island (40.7%), and Peter Shumlin of Vermont (46.4%).
In the GOP camp, there was Rick Scott of Florida (48.1%), Sam Brownback of Kansas (49.9%), Paul LePage of Maine (48.2%), and Charlie Baker of Massachusetts (48.4%).
The lone independent was Bill Walker of Alaska (48.1%).
Eric Ostermeier at Smart Politics found that this group in 2014 represented only the third time in the last 100 years that 10 or more governors came out on top with a plurality of the vote. There were also 10 governors elected by plurality in 2010 and 12 in 2002.
Ostermeier attributed the large number of plurality-based victories this year to competitive contests, caused in part by strong showings from several third-party and independent candidates.
-Noel Brinkerhoff
To Learn More:
Plurality-Winning Governors Elected At Century-Long High Water Mark (by Eric Ostermeier, Smart Politics)