Republicans Have Chosen Presidential and Vice-Presidential Candidates from Western States in 17 Elections; Democrats 0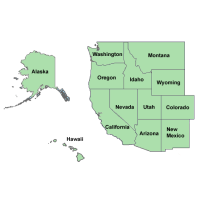 The western United States has been fertile political ground for one party's presidential candidates and their running mates.
Since the mid-19th century, the Republican Party has nominated a westerner 17 times to pursue the presidency or vice presidency, according to Eric Ostermeier of Smart Politics.
The GOP presidential love affair with politicians from the West began in 1856 with the selection of California Senator John Frémont. It continued with Herbert Hoover in 1928 and 1932 and Richard Nixon, in 1960, 1968 and 1972.
Then, there was Arizona Senator Barry Goldwater in 1964, California Governor Ronald Reagan in 1980 and 1984, and Arizona Senator John McCain in 2008.
GOP running mates from the West have been Oregon U.S. Senator Charles McNary in 1940, California Governor Earl Warren in 1948, Nixon in 1952 and 1956, Wyoming U.S. Representative Dick Cheney in 2000 and 2004, and Alaska Governor Sarah Palin in 2008.
In contrast to Republicans, Democrats have yet to choose a single westerner for the presidential ticket or as a running mate.
None of the current Democrats running or thinking of running are from the West: Hillary Clinton (New York senator, First Lady from Arkansas, and Illinois native), Bernie Sanders from Vermont, Martin O'Malley from Maryland, Lincoln Chafee from Rhode Island, and James Webb from Virginia.
-Noel Brinkerhoff
To Learn More:
Will Democrats Ever Go West? (For A Presidential Nominee) (By Eric Ostermeier, Smart Politics)