Obama Administration Orders Verizon to Turn over all Call Records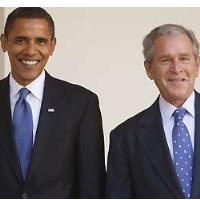 One of the nation's largest telecommunications companies has been ordered by the federal government to turn over the telephone records of its customers—marking the first time that the Obama administration has sought the blanket collection of communications by Americans not under investigation.
The British newspaper The Guardian revealed that the National Security Agency (NSA) was authorized to collect the telephone records of millions of Verizon customers under a secret court order.
Issued on April 25 by the secretive Foreign Intelligence Surveillance Court, the court order allows the NSA to gather phone records on a daily basis for three months until July 19. The data is then turned over to the Federal Bureau of Investigation for use in counterterrorism investigations. The order appears to be simply the latest in a program that has gone on for seven years.
"The document shows for the first time that under the Obama administration the communication records of millions of US citizens are being collected indiscriminately and in bulk–regardless of whether they are suspected of any wrongdoing," Charlie Savage and Edward Wyatt wrote at The New York Times.
The widespread collection of phone records in the name of thwarting terrorists first occurred under President George W. Bush. But the news about Verizon reveals what was long suspected—that the practice has continued under Barack Obama.
The government snooping has allegedly so far focused on clients of Verizon Business Network Services, one of the largest telecommunications and Internet providers for corporations.
Civil libertarians were upset at the news, saying Americans should be concerned about the implications of the government eavesdropping.
"From a civil liberties perspective, the program could hardly be any more alarming," Jameel Jaffer, deputy legal director for the American Civil Liberties Union (ACLU) said in a statement. "It's a program in which millions of innocent people have been put under the constant surveillance of government agents. It's analogous to the FBI stationing an agent outside every home in the country to track who goes in and who comes out."
According to an ACLU analysis of the order, the NSA wants to know "when you're calling, who calls you, how long you talk, and maybe where you're calling from." Collection of this information, known as "metadata," "can reveal your political and religious affiliations, your medical conditions, your infidelities, and more."
-Noel Brinkerhoff
To Learn More:
NSA Collecting Phone Records of Millions of Verizon Customers Daily (by Glenn Greenwald, The Guardian)
U.S. Is Secretly Collecting Records of Verizon Calls (by Charlie Savage and Edward Wyatt, New York Times)
Report: NSA Was Granted Order to Snag Millions of Verizon Call Records for 3 Months (by Kim Zetter, Wired)
The NSA Surveillance Order, Explained by the ACLU (by Alexander Abdo, ACLU)
Verizon Breaks Silence on Top-Secret Surveillance of Its Customers (by David Kravets, Wired)
11 Secret Documents Americans Deserve to See (by David Wallechinsky, AllGov)