Lawmakers Refute Obama's Claim that Full Congress Knew about NSA Program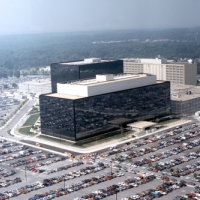 NSA headquarters (photo: U.S. Government)
After news broke last week about the National Security Agency (NSA) gathering volumes of phone records of Verizon customers, President Barack Obama defended the controversial program, claiming the work was done with the knowledge of every lawmaker in Congress.
"When it comes to telephone calls, every member of Congress has been briefed on this program," Obama told the media. "With respect to all these programs, the relevant intelligence committees are fully briefed on these programs."
This week, some lawmakers said that was not true, that they had no awareness of the NSA program before information about it was leaked in the media.
"This 'fully briefed' is something that drives us up the wall," Senator Barbara Mikulski (D-Maryland) told Politico, "because often 'fully briefed' means a group of eight leadership; it does not necessarily mean relevant committees."
Senate Majority Whip Dick Durbin (D-Illinois) told Politico that members of Congress usually "don't receive this kind of briefing."
Lawmakers wouldn't have known about the programs unless they sat on an intelligence committee, attended special sessions (which haven't taken place in the last two years) or specifically asked to be briefed–which can only happen if someone else first tips them off about some secret operation.
In Durbin's case, he said he learned about the phone-records program and another intelligence effort only after Senator Ron Wyden (R-Oregon) told him about them, which prompted Durbin to request a briefing under "classified circumstances."
If members of Congress viewed the program as "Big Brother and…a potential program run amok," said Obama, "then they should speak up…And if in fact…there were abuses taking place, presumably, those members of Congress could raise those issues very aggressively. They're empowered to do so."
"Well, how can you ask when you don't know the program exists?" Susan Collins (R-Maine) responded to National Public Radio (NPR).
Politico reported that no public record exists revealing which lawmakers attended specific special intelligence briefings. The White House provided the media with two lists of congressional briefings it had held on the subject, most of which were made to Judiciary and Intelligence committees. But lawmakers who say they were never told about the program are dismissive.
"It's playing with words. What does 'brief' mean?" Senator Jay Rockefeller (D-West Virginia) said to NPR. "I would [typically] go up there to the White House and get briefed, and come back knowing nothing."
Representative Aaron Schock (R-Illinois) told Politico that the classified intelligence briefings he's attended have not disclosed details on the NSA programs that made headlines last week.
"Americans trusted President Obama when he came to office promising the most transparent administration in history," Senator Ted Cruz (R-Texas) told Politico. "But that trust has been broken and the only way to earn it back is to tell the truth."
-Noel Brinkerhoff, Danny Biederman
To Learn More:
Lawmakers Rebut President Obama's Data Defense (by Reid J. Epstein, Politico)
NSA Surveillance Program Oversight: White House, Congress Point Fingers At Each Other (by Sam Stein, Huffington Post)
What Did Congress Really Know About NSA Tracking? (by Ailsa Chang, National Public Radio)
Obama's NSA Defense: Congress Can Raise Objections It Can't Actually Raise (by Elspeth Reeve, Atlantic Wire)
What do National Intelligence Director Clapper and NSA Whistleblower Snowden Have in Common? Booz Allen Hamilton (by Noel Brinkerhoff and David Wallechinsky, AllGov)
NSA and FBI Secretly Mining Data from Internet Service Providers (by Noel Brinkerhoff, AllGov)
Obama Administration Orders Verizon to Turn over all Call Records (by Noel Brinkerhoff, AllGov)