Chinese Government Inc. has Invested $81 Billion in U.S. in Last 10 Years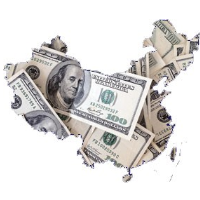 (graphic: Steve Straehley, AllGov)
One of China's great resources is its seemingly endless supply of American dollars to put in the world economy. Much of that money has been returned to the United States in the form of investments.
Over the past 10 years, China has invested or contracted to invest more than $81 billion into U.S. companies, according to data compiled by the American Enterprise Institute and the Heritage Foundation.
Most of the investment has come in the finance, real estate, energy and technology sectors. Energy has been a key component of Chinese investments owing to the increasing requirements of its middle class, so $15 billion of China's U.S. investments have come in that sector. The big winner is the world of finance, with $21.5 billion being put in that sector.
But while Chinese companies are enjoying the benefits of buying up parts of U.S. companies, they're also taking advantage of their country's "firewall," behind which corporate parents hide when their U.S. subsidiaries misbehave, according to a report (pdf) from the U.S.-China Economic and Security Review Commission.
Even serving Chinese companies with legal papers is challenging, with U.S. subsidiaries denying they have a connection to their Chinese parent companies, forcing those wanting to sue to travel a labyrinthine bureaucratic path to serve papers. If that's accomplished, obtaining evidence from Chinese companies is even more difficult. Some companies even claim immunity from U.S. law.
-Steve Straehley
To Learn More:
What in the World Does China Own? (by Richard Anderson, BBC News)
China's Great Legal Firewall: Extraterritoriality of Chinese Firms in the United States (by Kevin Rosier, U.S.-China Economic and Security Review Commission) (pdf)
Why Asia's Richest Man Is Investing $10 Billion In America (by Liyan Chen, Forbes)
China Global Investment Tracker (American Enterprise Institute and Heritage Foundation) (xls)