Chinese Companies Find Cheap Labor in the U.S. South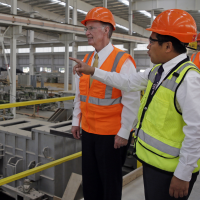 Golden Dragon USA president Roger Zhang gives tour of his Alabama plant to state Governor Robert Bentley (AP photo)
Economic growth in China has caused wages there to rise and make manufacturing more expensive, causing Chinese companies to look for less expensive locations to set up shop. One of them, of all places, is the United States.
Textile companies have started to relocate to states in the South where labor is cheap by American standards.
"The reasons for Keer coming here? Incentives, land, the environment, the workers," Zhu Shanqing, the Keer Group chairman, said on a recent trip to the United States, according to The New York Times. Keer opened a cotton mill earlier this year in South Carolina.
Labor salaries have tripled in China over the past decade, from $4.35 to $12.47 an hour.
The average manufacturing wage in the U.S. is $22.32, which is still higher than in China. But when the costs of energy and materials are factored in, Chinese executives have concluded their businesses may be better off in the U.S. American states can provide tax breaks and subsidies and the companies get better prices on natural gas and cotton.
"Today, for every $1 required to manufacture in the United States, Boston Consulting estimates that it costs 96 cents to manufacture in China," the Times' Hiroko Tabuchi wrote, pointing out the near equilibrium that has come about between the two economies.
Although it makes financial sense to produce yarn in the United States, the manufacture of garments will still take place overseas because that process is more labor intensive.
-Noel Brinkerhoff
To Learn More:
Chinese Textile Mills Are Now Hiring in Places Where Cotton Was King (by Hiroko Tabuchi, New York Times)
New Neighbors: Chinese Investment in the United States by Congressional District (National Committee on U.S.-China Relations and Rhodium Group) (pdf)
Swedish Companies Take Advantage of Cheap Labor in U.S. (by Noel Brinkerhoff, AllGov)
For German Carmakers, U.S. Workers are a Bargain (by Noel Brinkerhoff, AllGov)