Swedish Companies Take Advantage of Cheap Labor in U.S.
Wednesday, January 11, 2012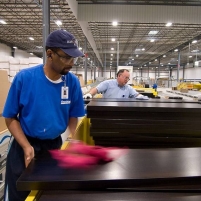 Ikea Factory in Danville, Virginia (photo: Steve Sheppard, AP)
Ikea also cut employee wages and changed work and overtime rules.
"Needless to say, these measures not only would have been frowned upon by Swedish society, they would've been illegal," adds Macaray. "They would have been in violation of Sweden's federal labor laws."
In July 2011, the Danville Ikea workers did vote to unionize.
A similar problem arose in Kentucky, where AAK (AahusKarishamn) purchased an oils and fats processing plant in Louisville from Golden Brands. Shortly after taking over, AAK tried to force workers to decertify their union. The employees refused. Then management tried to arm-twist workers into accepting a new contract that wasn't to their advantage.
German companies have also taken advantage of non-unionized U.S. states. In Germany the average hourly wage for auto workers is $67.14. However, employees at the new Volkswagen assembly plant in Chattanooga, Tennessee, earn $14.50 an hour and those at the BMW plant in Spartanburg, South Carolina get $15 an hour.
-Noel Brinkerhoff
IKEA Workers Build Solidarity, Vote for Machinists (by Mike Hall, AFL-CIO)