Burundi, Rwanda and Nicaragua among Nations Ranked Ahead of U.S. on Equality for Women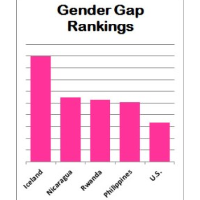 (graphic: Steve Straehley, AllGov)
Women in some developing nations enjoy more equality vis-à-vis men than in the United States, according to the latest international rankings on gender gaps.
The World Economic Forum lists the U.S. at No. 20 in its 2014 Global Gender Gap Report (pdf). That puts the U.S. behind Nicaragua, Rwanda, the Philippines and Burundi, among others.
In some measured categories, the U.S. ranking was even lower, like 47th for equal labor force participation (67% of American women have jobs, compared with 78% of men). The country is ranked 65th on equal pay for similar work, as American women earn 78% of what men make while doing the same jobs.
Then there's the matter of paid family leave, something offered in most nations. There's still no requirement for this benefit in the United States, however.
"The lack of paid leave, along with low spending on childcare and a lack of support for flexible work arrangements, is part of why the U.S. has been falling behind on women entering the workforce over the last two decades," Bryce Covert wrote at ThinkProgress.
The United States did come out on top in several educational categories. Number one overall was Iceland, followed by Finland, Norway, Sweden and Denmark.
-Noel Brinkerhoff
To Learn More:
The U.S. Falls Behind Nicaragua, Rwanda, And The Philippines On Women's Equality (by Bryce Covert, ThinkProgress)
Top 10 Countries Closing Gender Gap (by Heidi Worley, Population Reference Bureau)
Global Gender Gap Index 2014 (World Economic Forum)
The Global Gender Gap Report 2014 (World Economic Forum) (pdf)
Best Place in the World to be a Woman is Iceland; U.S. Ranks 23rd (by Noel Brinkerhoff, AllGov)