Border Patrol Dealing with Increased Illegal Immigrants from China
Friday, November 15, 2013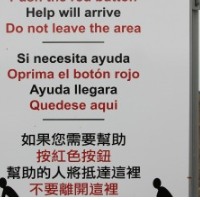 Guarding the United States' border with Mexico against illegal immigration no longer means capturing just individuals who speak Spanish.
Mandarin is another language Border Patrol agents must deal with.
In recent years, immigrants from China have increasingly tried entering the U.S. through the Mexican border. The numbers are substantial enough for the federal government to now post signs near the international crossing that feature warning messages in English, Spanish and Mandarin.
"We have had on occasion a number of Chinese in the groups that we have called in and reported to border patrol," Jim Gibson of the Texas Border Volunteers told KABB Fox News in San Antonio.
"The fact that the federal government put the Chinese language on a rescue beacon is significant and tells us there are a significant number of people from China coming through or else they wouldn't have bothered with it," Gibson added.
The Border Patrol reported that about 500 Chinese illegal immigrants were apprehended last year in Texas. During the year ending September 2010, 1,157 of those apprehended were of Chinese nationality.
While immigrants from Spanish-speaking countries made up more than 95% of Border Patrol apprehensions between 2006 and 2010, immigrants from China accounted for only 0.3% or fewer of annual apprehensions, according to the Department of Homeland Security. Still, they are the second largest group attempting to enter the U.S. illegally, according to Rio Grande Valley Sector Border Patrol supervisor Daniel Milian.
Those Chinese must pay between $50,000 to $60,000 to a "snakehead" to smuggle them in, Texas A&M University professor Dudley Poston, Jr. told KABB. Snakeheads are the equivalent of "coyotes" who sneak Mexicans into the U.S.
"We have a quarter million undocumented Chinese in our country now," added Poston. "We could have maybe a million, a million and a half; I see them in the next five to 10 years taking on a lot of the jobs [that Americans] don't do."
Chinese families see it as a better investment to pay a snakehead to get a relative into the U.S. than it is to start a new business in China, according to Poston.
- Danny Biederman, Noel Brinkerhoff
To Learn More:
Chinese Immigrants Crossing South TX Border (by Grace White, KABB Fox News 29 San Antonio)
Real Anchor Babies…From China, Not Mexico (by Noel Brinkerhoff, AllGov)