U.S. Courts Struggle with Case of Border Patrol Agent who Shot to Death a Teenager on the other Side of the Border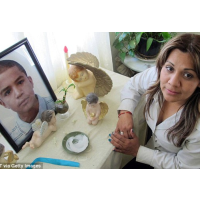 Araceli Rodriguez with photo of her son, Jose Antonio (photo: MCT via Getty Images)
A federal court is again being asked to bring justice to the family of a foreign national who was wronged by a Border Patrol agent on U.S. soil while the victim was in Mexico.
The case involves the 2012 shooting of Jose Antonio Elena Rodriguez, a Mexican teenager shot to death by a U.S. Border Patrol agent who opened fire after enduring rock throwers on the other side of the border. An autopsy showed that Rodriguez had been shot about 10 times, mostly in the back, according to the Arizona Daily Star.
Rodriguez's family claims the agent, Lonnie Swartz, violated the Fourth and Fifth amendments by using "excessive and unjustified" force against the 16-year-old boy who, according to his family, was walking home from a basketball game and was not involved in the rock throwing.
"The most fundamental right is the right to not be arbitrarily killed," American Civil Liberties Union attorney Lee Gelernt, who is representing the family, told the Los Angeles Times.
Swartz claims Rodriguez was throwing rocks, and his defense counsel argues that the family has no recourse in the U.S. because the Constitution does not protect foreigners on foreign soil.
Others have tried and failed to win similar cases in federal court: Arkan Mohammed Ali, an Iraqi held in the U.S. military prison Abu Ghraib outside Baghdad, and Sergio Adrian Hernandez Guerec, a 15-year-old killed by a Border Patrol agent in 2010. In the latter case, a three-judge panel ruled that the family could in fact sue the federal government in a U.S. court, but that ruling was overturned by the full court last month.
Last year, Border Patrol Chief Michael Fisher announced that agents would no longer be allowed to shoot at people throwing rocks at them. At least 19 people have been killed by agents since 2010.
-Noel Brinkerhoff, Danny Biederman
To Learn More:
Gunfire from U.S., a Death in Mexico. Can Grieving Family Sue in U.S.? (by Nigel Duara, Los Angeles Times)
Hearing Shows Appeals in Cross-Border Shooting Case Likely (by Perla Trevizo, Arizona Daily Star)
Border Patrol Sued for Killing a Picnicker in Mexico (by Noel Brinkerhoff, AllGov)
Border Patrol Used Dubious Tactics to Create Pretext to Justify Shootings; CBP Tried to Bury Scathing Report (by Noel Brinkerhoff, AllGov)